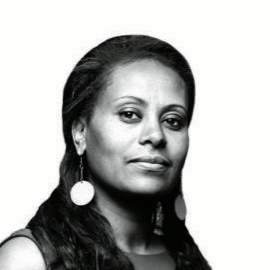 Aberash Bekele & Mehret Mandefro
Inspiration for 'Difret' (From Executive Producer, Angelina Jolie Pitt) & Producer
At 14, Bekele was kidnapped by a gang of horsemen, raped and then put on trial for killing her abductor. Her story forced Ethiopia to confront its brutal customs and change its laws. Today she's the mother of a 10-year-old son; she's plumper, her hair is hennaed and styled, her shoes sparkly, her nails varnished gold.
Her story has now been made into a feature film called Difret. Executive produced by Angelina Jolie, Difret has already won awards at the Sundance, Berlin, Montreal and Amsterdam film festivals and Bekele is once again the talk of the nation.
-
Mehret Mandefro is a producer/writer who draws on her experience as a physician and anthropologist to make films about the social determinants of health. She is currently Producer and President of Truth Aid, a not for profit organization that produces multimedia content about the social barriers to well being and translates research into action. She produced the feature narrative Difret and produced/co-wrote the feature documentary Little White Lie, which recently aired on Independent Lense with record-setting ratings that made it the 7th highest Independent Lens broadcast of all time.