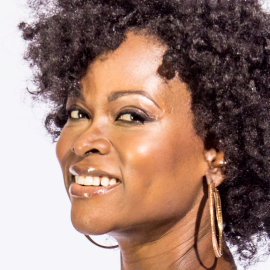 Abiola Abrams is the author of The Sacred Bombshell Handbook of Self-Love, where she reclaims the word "bombshell" to mean a woman who owns herself mind, body and spirit. An empowerment coach, advice columnist, award-winning media personality and lifestyle journalist, she gives heartfelt, no-nonsense, stigma-free advice on self esteem and self worth, body image issues, healthy relationships, mental health and how to live with passion. In addition to coaching successful women one-on-one, Abrams has been active in media as an Essence columnist, MTV Dating Coach, daytime talk show advice maven and founder of an award-winning blog and web TV series.
The first person in her Guyanese family born in the US, Abrams was bullied in her African American neighborhood for being "the wrong kind of black" while attending a prestigious all-girls prep school as a child and teenager. Today, she accords her unique perspective on culture, community, personal power, and identity to this rich, albeit conflicted, background.
Abrams created and curated VDay's "Until the Violence Stops" Film Festival and the NYC exhibit "Hos, Putas and Dragon Ladies: Our Sexuality Remixed." Her award-winning documentary Knives in My Throat follows a year in the life of a young bi-racial woman dealing with bi-polar disorder and a schizophrenic mother. Her play "Goddess City," which examines women's issues from the beauty myth to sexual abuse, was published in the anthology Say Word! by the University of Michigan Press. As a part of her safe sex initiative, she also directed the award-winning feminist erotica art film Afrodite Superstar.
Abiola Abrams has a BA from Sarah Lawrence and an MFA from the Vermont College of Fine Arts. Her debut novel, Dare, the story of a sociologist learning to love herself, was taught at the University of Massachusetts, Amherst. Her writing and speaking consistently show her unique ability to make even the heaviest and most provocative topics safe for open conversation.
Videos
---
Speech Topics
---
Occupy Yourself: Body Image & Body Love
Every woman - and man - has a body image story. Abiola Abrams realized this when she complimented a friend on her "skinny legs" and the friend burst into tears. Abrams, who had always lusted after thin limbs, had not known that in her friend's Southern upbringing, being too thin was seen as shameful.
This talk is about how to find your secret beauty and take a journey to the center of yourself. The pathway is beyond (but often through) anorexia, bulimia, food obsession, compulsive overeating, body dysmorphia, dieting, poor nutrition, self harm, sedentary lifestyles, self isolation, agoraphobia, and addictions. Your best thinking got you to your current state, so let's learn how to think differently.
No Stigmas: Mental Health & Keeping It Together
Stigmas around mental health issues loom large, particularly among women and communities of color. The myth of the superwoman is detrimental as it blocks people from seeking help when they need it.
In this era of social media and nonstop updates, people remain more isolated than ever. Facebook photo albums document life at its best and can lead you to believe, "Wow, everyone is having the best life ever. What about me?" Well, what about you? In this talk, Abiola Abrams tackles depression, anxiety, sadness, grief, disordered eating, addiction, stress, suicide, self esteem, and healing. She gives a voice to the voiceless.
Healthy Relationships: Giving & Receiving the Love You Deserve
You deserve to be fully loved just as you are.
Abiola Abrams became interested in healthy relationships when her first marriage crumbled. After ten years with her partner, she started over as a single woman in her thirties. It was her first time being single as an adult because like many women, she had been a serial monogamist from the age of fifteen.
A bad relationship with someone else reflects a bad relationship with yourself. In addition to getting her life coaching certification, Abrams embarked on a series of "love studies" to really learn about interpersonal relationships. She shares her insights in this provocative talk and discusses healthy communication skills, expectations, intimacy, forgiveness, boundaries, true vulnerability, feminine vs. masculine, wants vs. needs, love languages, the honeymoon effect, and fighting fair.
The Self-Love Kit: Creating the Life You Deserve
Are you living the life you were meant to live? Abiola Abrams' mantra is that "life is a passionate experience, not a passive one."
Abrams has personally overcome challenges such as toxic relationships, people-pleasing, body image issues, lying about her age for her career, and anxiety to find the power in living authentically. She now considers herself to be a pleasure educator, teaching joy, juicy living, and the sacred practice of extreme self care. If your plan is to live your best life "one day," then this talk is for you.
Abiola Abrams' Self-Love Toolbox includes healing modalities from affirmations and guided meditation to gratitude and the emotional freedom technique. Abrams will also offer laser coaching to your audience with the secrets to living your best life.
Post-Traumatic Love Disorder: Dealing with Loss
We all deal with loss. Yes, pain is inevitable, but suffering is optional. Whether it's the end of a relationship, the loss of a job, or the death of a loved one, loss is always at the crossroads.
Daunted by grief, we often move forward without healing. As a result, we can become the walking wounded. Abiola Abrams has named this condition "Post Traumatic Love Disorder." After a series of close family deaths, a big break up, job loss, and personal transition, she created the tools to heal PTLD and shares them with audiences today.
You Are Not Your Story: How to Re-Write Yourself
We get trapped by our stories, dependent on the safety of victimhood. We secretly feel that we are our gender, our race, our social status, or our educational level when we are so much more. Our stories are noble and worthy, but we are not just victims and survivors. If another person or external situation is responsible for your misery, then you are dependent upon something outside of yourself to save you. Fearless living is different than never being afraid.
The daughter of Guyanese immigrants, Abiola Abrams presents a fun, motivational talk filled with concrete advice on breaking barriers. Discussion topics include how to stop comparing yourself, harmful language patterns, people-pleasing, releasing baggage, and the fear of betraying your group by evolving. That's right, unspoken "tribal" contracts keep us bound to stagnant situations. Here's how to reclaim your power.
Books
---
Related Speakers View all
---
Kristie Kennedy

Women's Worth & Wellness Expert, TEDx Audacious Lead...

Liz Nead

Executive Business & Life Coach

Star Jones

Former Co-Host of "The View", Social Justice & Heart...

Tracee Ellis Ross

Actress & Youth Volunteer, Star of "Black-ish"

Montel Williams

Emmy Award-Winning Talk Show Host Best Known For "Th...

Bertice Berry

Sociologist, Author and Educator

Michael J. Fox

Award-Winning Actor, Author, Producer & Advocate

Malaak Compton

Activist & Philanthropist

Alfre Woodard

Emmy Award-Winning Actress; Human Rights Activist

Iyanla Vanzant

Host & Executive Producer of "Iyanla Fix My Life"; #...

Dr. Ian Smith

Doctor, New York Times Bestselling Author, Medical C...

Victoria Rowell

Classically Trained Dancer, Actress on "The Cosby Sh...

Judge Greg Mathis

Civil Rights Activist, Television Personality

Judge Glenda Hatchett

Former Juvenile Court Judge & Star of "Judge Hatchet...

Dominique Dawes

Olympic Gold Medal-Winning Gymnast, Former Co-Chair ...

Azure Antoinette

CEO, Commissioned Poet & Author, Millennial Advocate

Tukufu Zuberi

Expert on Race Relations; Host, "PBS History Detecti...

I Am Tasha Jones

The virtual introduction, I AM TASHA JONES .COM lend...

Vanessa "The Hebrew Mamita" Hidary

Actress / Performer / Writer / Director

Bruce George

Poet / Activist
More like Abiola