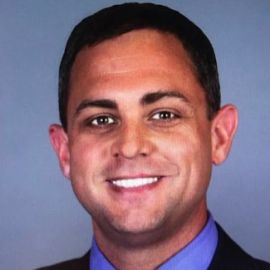 Dr. Adam B. Hill is a human being, a husband, a blessed father of two young children, an avid Butler University Bulldog, a native Indiana son, and a pediatric palliative care physician at Indiana University's Riley Hospital for Children in Indianapolis, IN.
Dr. Hill openly shares his own story of depression, suicidal thoughts and alcoholism while working in the field of medicine. Now, years into recovery, Dr. Hill shares his experience to help other individuals still suffering. In the midst of a national epidemic of caregiver distress, Dr. Hill reveals a rare, open and honest perspective, which has garnered national/international speaking opportunities and assisted in lifting the veil of secrecy regarding caregiver mental health. Dr. Hill's voice is leading a cultural revolution for how we approach mental health conditions in the professional workforce.
Hill's voice has been featured by USA Today, Chicago Tribune, Indianapolis Star, Medium, Thrive Global, Medscape and a cover story on Modern Healthcare magazine. Dr. Hill has also been named a National Mental Health Champion award winner for 2019.
In his lectures and writings, Dr. Hill shares the lessons learned during the course of his own successful mental health and addiction recovery. On March 23rd, 2017, these lessons were shared in the groundbreaking New England Journal of Medicine Article entitled "Breaking the Stigma: A Physician's Perspective on Self-Care and Recovery".
http://www.nejm.org/doi/full/10.1056/NEJMp1615974
Dr. Hill extrapolated these lessons into a compelling, full length narrative book entitled Long Walk out of the Woods: A Physician's Story of Addiction, Depression, Hope and Recovery, with a publication date of December 17th, 2019.
Related Speakers View all
---
Mark Henick

Internationally Recognized Mental Health Strategist,...

Vic Strecher, Ph.D. MPH

Founder, JOOL Health; Professor, University of Michi...

Frank Blackman Jr.

Advocate for Teen Mental Health & Suicide Prevention

Raif Derrazi

HIV/AIDS Motivational Speaker

Lucy Hone

Resilience Expert & Researcher

Helen Egger

Founder, WonderLab & Chair of the Department of Chil...

Elisa Fortise Christensen

Author, Poet & Motivational Speaker

Zabby Kaplan

Suicide Crisis Counselor

Holly Whitaker

Founder of Hip Sobriety, Podcaster & Author

Mike Sullivan

Motivational-Educational Speaker

David Romano

Mental Health Activist

Carlotta Taylor

Best Selling Author, International Certified John Ma...

Jennifer Freed

Psychological Astrologer, Psychotherapist & Author

Jerome M. Adams

20th U.S. Surgeon General & Vice Admiral of the U.S....

Dr. Nina Shapiro

Director of Pediatric Otolaryngology and a Professor...

Dr. Jennifer Ashton

Leading Women's Health Expert & Chief Medical Corres...

Dr. Mehmet Oz

Cardiothoracic Surgeon; Host of "The Dr. Oz Show;" C...

Marti MacGibbon

Humorous Inspirational Speaker, Certified Mental Hea...

Michele Reiss, PhD, RN, CS

Expert on Grief and Bereavement; Psychotherapist, Ed...

Allison Massari

Executive Coach, Entrepreneur, Visual Artist & Burn ...
More like Adam