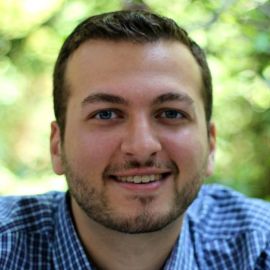 Adam Elmachtoub is an Assistant Professor of Industrial Engineering and Operations Research at Columbia University, where he is also a member of the Data Science Institute. In 2014-2015, he spent one year at the IBM T.J. Watson Research Center working in the area of Smarter Commerce. His research currently focuses on designing new approaches for supply chain and revenue management, especially where the two areas collide. More broadly, he is interested in leveraging data to make informed decisions in industries such as retail, logistics, and travel. He previously received his B.S. degree from Cornell in 2009, and his Ph.D. from MIT in 2014.
Related Speakers View all
---
Mikhail Kats

Assistant Professor of Electrical and Computer Engin...

Christine Ortiz

Scientist, Engineer, Social Entrepreneur, Educator &...

Carson J. Bruns

Nanotechnologist, Scientist & Writer

Sunny Sanwar

Founder of Verd2GO

Ewin Tang

PhD Student at the University of Washington

Jessica Liu

Engineering Manager at Figma

Deon Nicholas and Sami Ghoche

Co-Founders of Forethought

Mohamed A. Ibrahim

Engineer & Research Scientitst at Polytechnic Instit...

Greg Brockman

C.T.O. & Co-Founder of OpenAI

Stefan Savage

Professor of Computer Science and Engineering at UC ...

Regina Barzilay

Computational Linguist

Alice Zhang

Co-Founder & CEO of Verge Genomics, A Company Utiliz...

Adam de la Zerda

Biologist, Electrical Engineer, Assistant Professor ...

Peter Bailis

Assistant Professor, Computer Science at Stanford Un...

Qian Chen

Assistant Professor at University of Illinois Urbana...

Arnav Chhabra

Soros and NSF Fellow at the Harvard-MIT Division of ...

Taylor Feehley

Associate Director, Corporate Strategy & Development...

Sarah Guthals

Independent Contractor at GitHub, Co-Founder at Thou...

Alexander Lavin

Research Engineer at Numenta

Yash Mulgaonkar

PhD Student, Mechanical Engineering and Applied Mech...
More like Adam