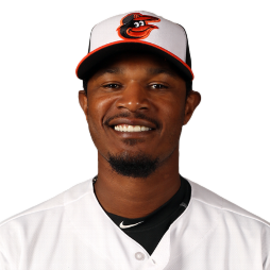 Adam LaMarque Jones was born August 1, 1985 in San Diego, California. He was the youngest of five children who grew up in the city's Skyline neighborhood. Adam's father wasn't around during his childhood. His mother, Andrea, raised the kids alone until he was six, when she remarried. Adam's stepfather turned out to be a solid role model.
Basketball was Adam's top sport. He was tall and quick, a perfect point guard. Football was another favorite—he played receiver and defensive back in youth league games. As for baseball, he thought it was boring, a game the suburban kids played. Fortunately he lived near the Willie Henderson Sports Complex, which offered fields and courts for all three sports.
He was a monster his senior year at Morse, batting .406 with 27 RBIs and six doubles, four triples and four home runs. He also went went a 3-3 with a 2.71 ERA. By season's end, his fastball was hissing by hitters at 95 mph. Among the colleges recruiting Adam was San Diego State, where new coach Tony Gwynn offered him a full ride—and a chance to learn hitting from a master.
As the draft approached, many scouts believed Adam's future lay on the mound. The Seattle Mariners disagreed. They grabbed Adam with the 37th pick and installed him at shortstop with their Rookie-level Peoria club in the Arizona League. Adam hit in seven of his first eight games, playing 28 in all before a promotion to the Everett Aqua Sox of the Northwest League. Adam finished the last week of the season there before heading south for the Arizona Fall League season.
Adam moved up to the A-level Wisconsin Timber Rattlers in 2004, where he spent most of the year. He led the club with 136 hits and 72 RBIs, finishing the year with a .267 average and 11 homers. Adam returned to the Arizona Fall League after the season.
Adam's maturation process has been remarkable. He is more focused, more mature and more well-rounded. At the plate, he shortened his swing, improved his pitch recognition, and stopped chasing stuff outside the strike zone. Most important, he's not reluctant to go deep in the count.
When Adam makes contact, it sounds like a rifle shot. He uses the whole field but has become more adept at turning on inside mistakes by getting his hands through the strike zone quickly. It would not be a surprise to see Adam batting clean-up one day.
Adam's speed makes him a threat on the basepaths. He is a much better runner than when he arrived in the majors. Defensively, he has taken to center field at Camden Yards. Early in his career, scours compared him with Gold Glover Torii Hunter. He may soon prove them right.