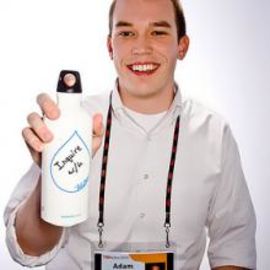 Adam Maikkula
Co-founding CEO,Educe Social
Serial entrepreneur, TEDster, and TED(x)er. Working on another major startup initiative that's a social learning platform that came up after thinking about what public education would look like if originally invented today in this hyper-connected, social/searchable world we live in. Beta = Spring 2013.
My professional and college backgrounds are both in Entrepreneurship (started and sold a social media agency 2009-2011) and Cultural Studies (self-designed an independent study on the development of online communities while studying at the University of St Thomas in St. Paul, MN in spring 2007 and specifically studied how the growing Facebook community responded to the Virginia Tech campus shootings of 2007).
I am a 2002 graduate of Robbinsdale Cooper High School's International Baccalaureate program in Minnesota with a focus in IB International Business and Management.
Will travel to the Moon one day, but for now spend my time learning, experimenting, and advising local founders, soon-to-be-founders, and young professionals.
Related Speakers View all
---
Tim Rutten

Marketing and Sales Manager, New Business Developmen...

Ben Knelman

Founder, CEO ,Juntos Finanzas

Harold Mateo

VP of Strategy & Business Development,RSC Global Ho...

Sena Luis David

Senior Market Risk Specialist,Superintendence of Ban...

Xicani Godínez López

Movimiento Carta de Recomendación./ Letter of Recom...

Chip Johnson

Sr. Associate,Falfurrias Capital Partners

Toumani Sidibe

Chief of auditing and controls,Orange Mali (France T...

Christian Yang

Director of Engineering at McChrystal Group

Gonzalo Plaza

Executive Director,The Pearson Foundation

Matias Reeves

Cofounder,Educación 2020

Guo Feng Chan

Materials Engineer,Agilent Technologies

Zahid Mahmood

Founder and CEO,ILM Foundation

Dominic Llewellyn

CEO AchieveGood & Numbers4Good

Julio Martinez

Business Director & Founder,ADD+ Aliados del desarrollo

Daniel Gizzi

Co-Founder,Ascension Air Management

Cole Hoover

Director,Global Brigades

Michael Nganga

Principal Consultant,The Global Africa Consulting

Shawn Keng Teck Ee

Marketing Support Executive,Eppendorf Asia Pacific

Jonas Borchgrevink

Founder,MyGoodAct

Andrea Carafa

Founder & CEO of ArtsUp
More like Adam