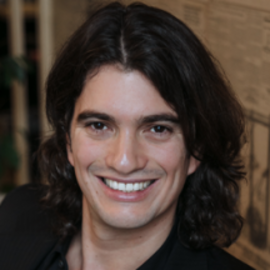 Adam Neumann is Co-Founder and CEO of WeWork, which is leading the movement toward a new way of working. Established in 2010, WeWork is the platform for creators and a provider of shared workspace, community, and services for entrepreneurs, freelancers, startups and small businesses. WeWork has experienced explosive growth with more than 23,000 members in 29 locations across 13 cities.. Adam and team have ambitious expansion plans, both domestically and internationally, creating both physical and digital ways for everyone to participate in the WeWork community.
As an entrepreneur in industries ranging from apparel to real estate, Adam has been creating companies in New York City for nearly 10 years. His most recent venture, the conversion of the top 25 floors of the Woolworth Building into residential space, marks his foray into housing. Previously, Adam was Co-Founder of the co-working space Green Desk, which helped transform the Dumbo neighborhood in Brooklyn, New York into a hub for small, creative companies. Adam also Co-Founded and ran Big Tent Inc., where he developed the well-known Egg Baby and Krawlers brands of children's clothing.
Adam advises and invests in many start-up ventures and is committed to the growth of small business in New York City and beyond. He resides in Lower Manhattan and is the proud father of two daughters, Elle and Loulou, and loving husband to his wife, Rebekah.
Videos
---