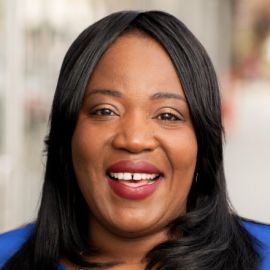 Adelmise Rosemé Warner
Senior Director of Global Employee Relations at Apple; Former Global Head of Diversity & Inclusion at SiriusXM and Pandora
Adelmise Rosemé Warner serves as the senior director of global employee relations at Apple, a position she has held since January of 2020.
From August 2018 to August 2019, she served as the global head of diversity and inclusion at Pandora. After Pandora and SiriusXM's merger, Warner then served as Vice President, Global Diversity and Inclusion Officer, Learning and Development for the two companies.
Before starting her work at Pandora, Warner was an employment attorney for the likes of Electronic Arts, Gap, the San Francisco City Attorney's Office, and at the law firms Morgan, Lewis & Bockius and Heller Ehrman. She's also served in a voluntary capacity for several organizations.
Warner moved to the United States from Haiti when she was 16 years old, not speaking any English. Warner worked very hard in high school to learn English and be admitted to UC Berkeley. She holds a bachelor's degree in political science from UC Berkeley. While she was a student at UC Berkeley, Warner interned at the U.S. Equal Employment Opportunity Commission (EEOC) as part of UC Berkeley's "Cal in the Capital" Program. While interning there, she discovered a passion for addressing workplace and employment-related issues such as discrimination and harassment.
Warner also holds a J.D. from the University of California, Hastings College of the Law.
Videos
---