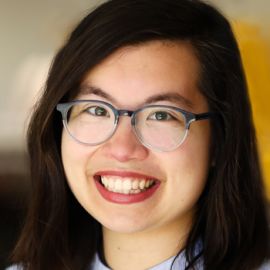 Adora Svitak began delivering writing workshops at local schools after publishing a collection of short stories. Later, she began advocating for student voice at education conferences. In 2010, she delivered the speech "What Adults Can Learn from Kids" at TED. The speech has received more than 5 million views on TED.com alone, and been translated into more than 40 different languages.
Her passion for amplifying the voices of youth led her to organize a team of students to produce a TEDx event for youth, TEDxRedmond. Pacific Standard Magazine called Adora one of the "30 Top Thinkers Under 30". In 2018, she graduated with a major in Development Studies and minors in South Asian Studies and Creative Writing from UC Berkeley. She currently works at the Wikimedia Foundation.
Speech Topics
---
Millennials in the Global Economy
Think of "young people in the 21st century" and what comes to mind? For many people, probably a series of words (perhaps thanks to personal experience as well as pop culture) such as: heartless, apathetic, or "slacktivists." In this thought-provoking presentation, Adora Svitak powerfully demonstrates that young people transcend this dichotomy time and time again when they're given the chance to be represented and empowered. Providing examples of peers who are changing the global story, she emphasizes the necessity of youth voice from the classroom to the boardroom, and explains that the innovative spirit of young people may be our most precious natural resource.
What Adults Can Learn from Youth
Benefit & Profit of Simply Doing Good
What Teachers Can Learn from Students
Teaching Skills & Knowledge Beyond Curriculum
News
---
8 Kids Who Are Really Winning at Life
Adora Svitak. Growing up in Redmond, Washington, Svitak was a prolific writer — she appeared on Good Morning America at age 7 for having written more than ...
Related Speakers View all
---
Tina Marie Jones

Connecting with the audience through the style of a ...

Christi Tasker

Social Media Branding Queen and Keynote Speaker

Mak Man

Dynamic Motivational Speaker and Published Author . ...

Jean Bailey Robor

Jean Bailey Robor, award-winning author and inspirat...

David Hyner

Professional Speaker, "The Massive Goal Principle"

Mo Stegall

Global Brand Ambassador, Motivational Speaker, Bests...

Eric Gnezda

Singer, Songwriter, Educator, Author, TV Producer & ...

Barbara Rozgonyi

Elevating Events with Creativity and Innovation via ...

Erin Gruwell

Founder & Executive Director of the Freedom Writers ...

Michael McCain

Awakening Millions To Their Potential -Author, Coach...

Devin Hughes

Devin C. Hughes-The Chief Inspiration Officer

Tonisha Pinckney

Empowerment Beyond Victimization - Author of I AM MO...

Hypnotist The Incredible BORIS

Award-winning Motivational Hypnotist and Keynote Spe...

Andrea Raquel

Trained Broadcast Journalist / Marketing Pro & Exper...

Jon Bergmann

Pioneer of the Flipped Class Movement & Bestselling ...

Preston Keith Fox

THE ANTI-MOTIVATIONAL-MOTIVATIONAL SPEAKER

Jesse Miller

Topics focus on Social Media Awareness & Education, ...

Kanya Balakrishna

Co-Founder & CEO of The Future Project

Roberto Alas

Reaching and identifying the potential in every sing...

Debra Peppers

Emmy Award-Winning TV Host; Motivational Speaker and...
More like Adora