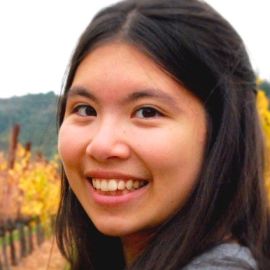 Since age seven, Adora Svitak has been drumming up excitement about reading and writing, speaking at venues like the Wisconsin State Reading Association Convention, the National Center for Family Literacy Conference in Florida, and the Reading Tree Book Festival in Hong Kong. Diane Sawyer called her "a tiny literary giant" on Good Morning America.
Now fourteen, Svitak has authored three books and taught over 400 schools and classrooms worldwide via video conferencing and in-person visits. In February 2011, she received the NEA Foundation's Award for Outstanding Service to Public Education, an honor previously bestowed on luminaries like Bill Clinton and Jane Goodall.
As a passionate advocate for youth voice, particularly in education, Svitak's audience includes teachers and adults as well as students; she shares her "kid's eye view" on numerous issues as a guest blogger for The Huffington Post and speaker at education conferences worldwide. In February 2010, Svitak presented at TED, becoming the youngest ever person to do so. She is also the curator of the student-led TEDxRedmond conference.
Adora Svitak champions a wide variety of causes, including literacy, student voice, and fighting world hunger (as a Youth Representative for the United Nations' World Food Program). Years of writing, teaching, and giving speeches might seem like enough for anyone, but Svitak has maintained that she doesn't plan on retiring soon. This teenager still has decades to go.
Videos
---
Speech Topics
---
Millennials in the Global Economy
Think of "young people in the 21st century" and what comes to mind? For many people, probably a series of words (perhaps thanks to personal experience as well as pop culture) such as: heartless, apathetic, or "slacktivists." In this thought-provoking presentation, Adora Svitak powerfully demonstrates that young people transcend this dichotomy time and time again when they're given the chance to be represented and empowered. Providing examples of peers who are changing the global story, she emphasizes the necessity of youth voice from the classroom to the boardroom, and explains that the innovative spirit of young people may be our most precious natural resource.
What Adults Can Learn from Youth
Benefit & Profit of Simply Doing Good
What Teachers Can Learn from Students
Teaching Skills & Knowledge Beyond Curriculum
Links
---
News
---
8 Kids Who Are Really Winning at Life
Adora Svitak. Growing up in Redmond, Washington, Svitak was a prolific writer — she appeared on Good Morning America at age 7 for having written more than ...
Related Speakers View all
---
Barbara Rozgonyi

Elevating Events with Creativity and Innovation via ...

Grant D. Fairley

A master story teller who encourages and motivates a...

Mak Man

Dynamic Motivational Speaker and Published Author . ...

David Hyner

Professional Speaker, "The Massive Goal Principle"

Christi Tasker

Social Media Branding Queen and Keynote Speaker

Roberto Alas

Reaching and identifying the potential in every sing...

Jesse Miller

Topics focus on Social Media Awareness & Education, ...

Candace Reese

The CEO Pundit: Empowerment Speaker, Inspirational C...

LisaVanAllen

The Biz Doctor with prescriptions for your success!

Tina Marie Jones

Connecting with the audience through the style of a ...

Devin Hughes

Devin C. Hughes-The Chief Inspiration Officer

Tiffany Odutoye

Social Media Brand Equity Coach, Author and Speaker

Erin Gruwell

Inspirational Educator & Author of "The Freedom Writ...

Tim Seitz

The World's Happiest Hypnotist

Nicholas Kristof

Pulitzer Prize-Winning New York Times Columnist

Marty Stratton

Entrepreneur Spirited Speaker; Driven for Your Success!

Michael McCain

Awakening Millions To Their Potential -Author, Coach...

Crystal Gifford

Awarded Speaker, Best Selling Author, Professor, Men...

Clay Shirky

Expert on New Technology and Social Media, and How T...

Eric Gnezda

Humorist, songwriter and inspirational speaker. Crea...
More like Adora