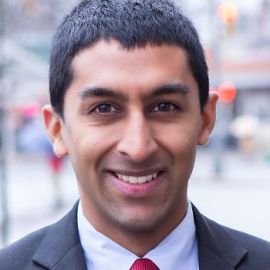 Akash Chougule is the Director of Policy at Americans for Prosperity, the nation's largest free-market grassroots advocacy organization, and was recently selected to Forbes Magazine's 2016 "30 Under 30" for Law & Policy.
Akash was born and raised in East Greenwich, Rhode Island. He received a Bachelor's degree in Political Science from Boston College in 2012, where he was also a four-year member of the varsity cross country/track and field team, and received his Master's degree from the George Washington University Graduate School of Political Management in 2015.
Akash's writing has appeared in the Wall Street Journal, Forbes, the Washington Times, National Review, and many other publications, and he is a regular contributor on nationally syndicated talk radio.
Videos
---