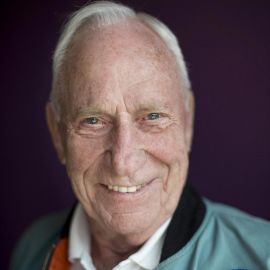 Al Worden
Former NASA Astronaut & Command Module Pilot for Apollo 15, International Space Hall of Famer & Back to Space Astronaut Consultant
Alfred Merrill "Al" Worden, (Col, USAF, Ret.), is an American astronaut and engineer who was the Command Module Pilot for the Apollo 15 lunar mission in 1971. As command module pilot for the Apollo 15 mission to the moon in 1971, Al Worden flew on what is widely regarded as the greatest exploration mission that humans have ever attempted. He spent six days orbiting the moon, including three days completely alone, the most isolated human in existence. During the return from the moon to earth he also conducted the first spacewalk in deep space, becoming the first human ever to see both the entire earth and moon simply by turning his head.
The Apollo 15 flight capped an already-impressive career as an astronaut, including important work on the pioneering Apollo 9 and Apollo 12 missions, as well as the perilous flight of Apollo 13. Worden was one of the 19 astronauts selected by NASA in April 1966.
After retirement from NASA and active duty in 1975, Worden became President of Maris Worden Aerospace, Inc., and then became staff Vice President of Goodrich Aerospace in Brecksville, Ohio. Worden served as Chairman of the Astronaut Scholarship Foundation until 2011, providing scholarships to exceptional science and engineering students.
In 2011, Worden's memoir Falling To Earth made the top 12 of the LA Times Bestseller list. In 2017, Worden was also a contributor and wrote the foreword for the award-winning book A Quarter Million Steps by Dr. Anthony Paustian that looks at leadership using perspectives from the Apollo Program.
Worden received the NASA Distinguished Service Medal in 1971. He was inducted into the International Space Hall of Fame and U.S. Astronaut Hall of Fame in 1983 and 1997, respectively. In 2018, Worden joined the Back to Space organization as an Astronaut Consultant with the goal of inspiring the next generation to go to Mars through film. Al has been Working on two books for publication in 2019, the 50 the anniversary of Apollo 11.
Related Speakers View all
---
Thomas D. Jones, PhD

Former NASA Astronaut & Planetary Scientist; Author

Story Musgrave, M.D.

Retired NASA Astronaut; Physician & Professor at Art...

José M. Hernández

Former NASA Astronaut & Engineer; Former Candidate f...

Yvonne Cagle

NASA Management Astronaut & Retired U.S. Air Force C...

Leland Melvin

Engineer, Former NASA Astronaut & Former NFL Wide Re...

Garrett Reisman

Astronaut, Professor of Astronautical Engineering at...

Ken Mattingly

Former NASA Astronaut & Test Pilot; Retired Admiral ...

Scott Parazynski

Astronaut, Physician & Everest Summiter

Aprille Ericsson-Jackson

Rocket Scientist; Technologist & STEM Educator

Emily Calandrelli

Aerospace Engineer; Host & Producer of FOX's "Xplora...

Mary Ellen Weber

Former NASA Astronaut & Legislative Affairs Liaison ...

Dottie Metcalf-Lindenburger

Former NASA Astronaut; Educator & Earth Scientist

Joan Higginbotham

Electrical Engineer & Former NASA Astronaut; Third A...

David Wolf

Astronaut, Medical Doctor, Engineer, Scientist, Inve...

Joseph Acaba

NASA Astronaut; First Person of Puerto Rican Heritag...

John "Danny" Olivas

Former NASA Astronaut & Mission Assurance Expert; Di...

J.R. Martinez

Actor, Best-Selling Author, Motivational Speaker, Ad...

Dick Rutan

Voyager Pilot, Adventurer and Aviation Pioneer

Leroy Chiao

Former Astronaut & International Space Station Comma...

Peggy Whitson

NASA Astronaut; NASA's Most Experienced Female Astro...
More like Al