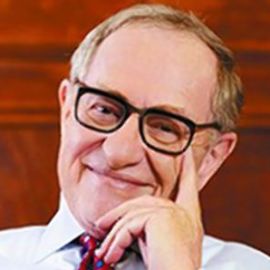 Professor Alan M. Dershowitz is Brooklyn native who has been called "the nation's most peripatetic civil liberties lawyer" and one of its "most distinguished defenders of individual rights," "the best-known criminal lawyer in the world," "the top lawyer of last resort," "America's most public Jewish defender" and "Israel's single most visible defender -- the Jewish state's lead attorney in the court of public opinion." He is the Felix Frankfurter Professor of Law at Harvard Law School. Dershowitz, a graduate of Brooklyn College and Yale Law School, joined the Harvard Law School faculty at age 25 after clerking for Judge David Bazelon and Justice Arthur Goldberg.
He has also published more than 100 articles in magazines and journals such as The New York Times Magazine, The Washington Post. The Wall Street Journal, The New Republic, The Nation, Commentary, Saturday Review, The Harvard Law Review and the Yale Law Journal, and more than 300 of his articles have appeared in syndication in 50 national daily newspapers. Professor Dershowitz is the author of 27 fiction and non-fiction works with a worldwide audience. His most recent titles include "Rights From Wrong," "The Case For Israel," "The Case For Peace," "Blasphemy: How the Religious Right is Hijacking the Declaration of Independence," "Preemption: A Knife that Cuts Both Ways," "Finding Jefferson -- A Lost Letter," "A Remarkable Discovery," and "The First Amendment In An Age of Terrorism," and "The Case For Moral Clarity: Israel, Hamas and Gaza."
In addition to his numerous law review articles and books about criminal and constitutional law, he has written, taught and lectured about history, philosophy, psychology, literature, mathematics, theology, music, sports -- and even delicatessens.
In 1983, the Anti-Defamation League of the B'nai B'rith presented him with the William O. Douglas First Amendment Award for his "compassionate eloquent leadership and persistent advocacy in the struggle for civil and human rights." In presenting the award, Nobel Laureate Elie Wiesel said: "If there had been a few people like Alan Dershowitz during the 1930s and 1940s, the history of European Jewry might have been different." Professor Dershowitz has been awarded the honorary doctor of laws degree by Yeshiva University, the Hebrew Union College, Brooklyn College, Syracuse University and Haifa University. The New York Criminal Bar Association honored him for his "outstanding contribution as a scholar and dedicated defender of human rights."
Videos
---
Speech Topics
---
Global Perspectives on Justice and Civil Liberties
Professor Dershowitz shares his insights on the most pressing current events, coming to startlingly original and thought-provoking conclusions.
The Case for Israel
Based on his bestselling book, Professor Dershowitz applies years of unbiased research to proactively advocate and refute the misrepresentations of Israel.
The Case for Peace
Professor Dershowitz examines recent events that have led to this critical juncture in the conflict between Israelis and Palestinians and argues that for the first time in years, peace is within our reach.
Related Speakers View all
---
Sir Richard Branson

Businessman, Founder of Virgin Group

Ambassador Dennis Ross

Author, Counselor & William Davidson Distinguished F...

Parag Khanna

Leading Geo-Strategist & Author

Tom Stewart

Editor, Harvard Business Review

Gloria Allred

Renowned Women's Rights Attorney; Subject of Netflix...

John Legend

EGOT Winning Musician, Producer & Philantropist

William Easterly

Professor of Economics at New York University; Co-Di...

Robert Menendez

U.S. Senator, (D) New Jersey

Brian Hoffstein

Contributing Writer

Lee Hamilton

Member, President's Homeland Security Advisory Counc...

Dan Gilbert

Psychologist; Happiness Expert

Ingrid Newkirk

President, PETA

Steven Mazie

Associate Professor of Political Studies, Bard High ...

An Phung

Multimedia Journalist

Mitt Romney

Former Governor of Massachusetts, 2012 Republican Pr...

Cody Adams

Managing Editor of The Floating University.

Shashi Tharoor

Diplomat & Author; Former United Nations Under-Secre...

Robert Greene

American Author; New York Times bestsellers The 48 L...

Gerry Adams

President, Sinn Fein

General Wesley Clark

Retired Four-Star Army General & Former NATO Supreme...
More like Alan