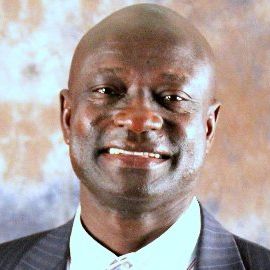 Originally from the African nation of Ghana, Albert Mensah has emerged to become an internationally-recognized motivational speaker, corporate consultant and coach. While serving top companies throughout the United States, Canada, Europe, Africa, and the Middle East, his life story — a journey from rags to riches — has inspired audiences everywhere.
Known as the "Ambassador of Opportunity," Albert is an expert in the area of change. Rather than being feared, Mensah believes change is something that should be embraced. By doing so, listeners discover how they, too, can attain new heights personally and professionally.
Particularly for companies in the midst of an organizational transformation, Albert can provide the tools and inspiration necessary to emerge successfully on the other side. Having served such leading companies as Starbucks, Microsoft, Boeing, Wells Fargo, Costco, and John Deere, he has the ability and experience to help any company through times of transition.
In addition to change, Albert is an expert in the areas of leadership, teamwork, intellectual agility, and resiliency. Believing that resilient companies are better positioned to thrive in the midst of change, he teaches employees and executives at every level how to absorb change and parlay it into momentum.
Prior to embarking on his career as a public speaker, Albert served within Fortune 500 telecommunications companies as a top salesman, in which role he regularly surpassed all sales quotas. From there, he launched a successful sporting goods store. Along with his early history, these experiences have contributed to his unique perspective and enrich the content of his presentations.
Albert is passionate about public speaking, teaching and even athletics. A Two-Time NCAA All-American Soccer Player, he was honored when his alma mater, McDaniel College, inducted Albert into the Sports Hall of Fame in 2003.
Albert is also the author of When the Drumbeat Changes, Dance a Different Dance and OK Means Opportunity Knocking. His newest books, WAKE Up to Your Potential! Discovering the Hidden Opportunities in Challenging Times and Wise Living from African Folktales: Changing Your Life Through the Wisdom of African Stories, were both published in 2015. These resources help readers clarify dreams, specify goals, and take full advantage of opportunities.
Videos
---
Speech Topics
---
WHEN THE DRUMBEAT CHANGES, DANCE A DIFFERENT DANCE
(Change and Stress Management Keynote) Through mesmerizing, highly relevant stories, Albert will inspire you and your organization to recognize opportunity in its many disguises, create more opportunities out of your obstacles, act strategically in the midst of change, and learn that the courage to try new ideas is infinitely more powerful than your circumstances.
OPPORTUNITY IS ALWAYS KNOCKING
(Motivational / Inspirational Keynote) This closing keynote will inspire your attendees to return to everyday activities renewed and rekindled. Discover how to view problems you encounter as opportunities, develop success from failure, see and seize opportunities that are all around you, and create opportunities where they don't seem to exist.
SHAKE OFF YOUR FEAR SNAKES
(Mastering Fear Keynote) This opening keynote will set the tone for the rest of your meeting or conference. It's filled with stories and messages from Africa that appeal to the heart and the head. Only when a person learns to confront and ultimately overcome their fear snakes can they then be free to move toward their goals, to accomplish the things that they want to in life, to become the person they want to become.
BUILDING A FAMILY LIFE FULL OF LOVE
(Spouse Program) In this program specially designed for breakout spouse programs, Albert brings a different perspective on raising children through the eyes of an African father.
News
---
Albert Mensah Listed Among the World's top 60
Seattle, Washington October 13, 2014: Albert Mensah, who came to the United States from his home in the Ghanaian countryside in Abesewa Ashanti, was recently designated a top ranking motivational speaker by Hunger2Succeed, an organization which assists people from underserved communities to accomplish their most desirable goals and dreams.