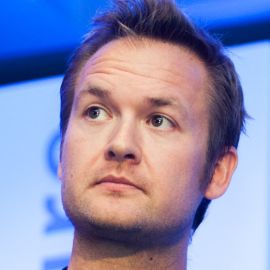 Alex Hunter is a branding and customer experience expert, keynote speaker, and angel investor.
He is also the creator and host of Attaché, an award-winning online travel show, aimed at showing frequent travellers all they need to know before visiting a city on company business.
Previously, Alex served as the global Head of Online for the Virgin Group, overseeing the Virgin brand's global digital strategy in its entirety, as well as Sir Richard Branson's personal digital strategy.
Before joining the Virgin Group, Alex was part of the founding team of award-winning US airline Virgin America. His work at Virgin America was covered by Time magazine, CNN, and CNBC, and received several accolades including ad:tech and Webby Award honors.
Alex most recently served as the Chief Executive of a venture-backed digital music company, with investment from the backers of Twitter, Tumblr, Medium, and Kickstarter. He steered the company through a successful international mergers and acquisitions deal, and significant multi-national growth in under a year.
He has been a mentor at the SeedCamp venture capital and angel funding events in London and South Africa, and served on the Board of Trustees for the UK non-profit Drinkaware for over 5 years.
Alex is a highly regarded public speaker, appearing all over the world at major industry events such as ad:tech, Future of Web Apps (London, Las Vegas, Dublin, and Miami) and Thinking Digital. Other clients include Twitter, Volkswagen, L'oreal, IKEA, Cisco, Deloitte, Procter & Gamble, O2, CapitalOne and the BBC.
Alex is one of the most sought after business speakers on the corporate circuit. He has spoken at private events for organizations such as Twitter, Volkswagen, L'oreal, IKEA, Facebook, Cisco, Deloitte, Pepsi, Procter & Gamble, O2, CapitalOne and the BBC. He has appeared all over the world at major industry events such as ad:tech, SuperReturn, Future of Web Apps (London, Dublin, Las Vegas & Miami), Thinking Digital, Marketing 2.0, CIO Connect, iStrategy, Tech4Africa, MARKA, SuperReturn, and Internet World.
He is a passionate, energetic and knowledgeable speaker who can engage any size audience in any industry. The topics he speaks on include customer experience, branding, customer loyalty, reputation, marketing and how they all intersect with the digital world.
Related Speakers View all
---
Terry Jones

Digital Disruptor, Author & Venture Capitalist

Gillian Muessig

Thought Leader in Global Entrepreneurship

Sir Richard Branson

Businessman, Founder of Virgin Group

Alaa Hassan

Vice President, iNetVideo.com

Jerry Fletcher

CEO of Z-axis Marketing, Inc; Expert Business Speaker

David Nour

Social Networking Strategist

Josh Linkner

Five-Time Tech Entrepreneur; Hyper-Growth CEO; NY Ti...

Tim Sanders

Bestselling Author, Technology Pioneer, Expert on Co...

Geoffrey Moore

Managing Director, Geoffrey Moore Consulting; Ventur...

Roberto Alas

Reaching and identifying the potential in every sing...

Warren Cass

Social Media Strategist & International Speaker

Nicholas de Wolff

Digital Media & Brand Strategy; Economic & Social Tr...

Jay Handler

Speaker, Radio Host & Author of "The 8 M's of Market...

Helder Falcao

"PALOP"| Portuguese & English Speaker | Business Net...

Micah Solomon

Customer Service & Experience Consultant

Chris Sacca

Google & Twitter Innovation Guru

Don Peppers

Marketing and Sales Futurist; Customer Experience Th...

Bernard Martin

B2B & B2C Front Line Social Media Selling

Kevin Parker

Future biz Tomorrow's tech

Ron Immink

Business book nerd, entrepreneur, founder of smallbu...
More like Alex