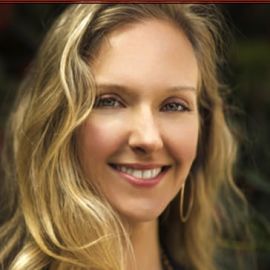 Alex Jamieson
Vegan Chef from "Super Size Me" and Author of "The Great American Detox Diet"
Alex Jamieson is the author of The Great American Detox Diet: 8 Weeks to Weight Loss and Well-Being, and is perhaps best known for her appearance in the Oscar-nominated documentary Super Size Me. A trained healthy gourmet chef and seasonal, local, organic and whole foods expert, Jamieson works with clients who have been diagnosed with cancer, diabetes, food allergies, infertility, asthma, and chronic fatigue syndrome. She provides nutritional and lifestyle counseling and support in a fun and empowering way.
She has more than 12 years of experience as a leading authority, writer and lecturer about the connections between the environment and personal health and well-being. Also the author of Living Vegan for Dummies and Vegan Cooking for Dummies, she has shared her approach to holistic health with Oprah, CNN, FOX News, and MSNBC.
An advisory board member for the New York Coalitions for Healthy School Food, she teaches nutrition in corporate, group and one-on-one settings and advises major corporate clients on greening and improving their food and nutrition program.
Jamieson's presentations discuss her experiences in Super Size Me and explore in greater detail the health issues presented in the documentary. Building on her experience teaching in schools, local food justice organizations, and corporate symposiums, Jamieson passionately speaks about the role of what we eat in personal and planetary health. She covers such vital and interrelated issues as sustainable eating, organic and natural food cooking, vegan cooking, and the power of food choices to combat global warming.
Speech Topics
---
The Dorm Room Diet: Fight the Freshman 15 While Saving the Planet
You can make a difference three times a day: with every meal you eat! Discover how your food choices can have a positive impact on the environment while helping you get in the best shape of your life. Add in a side benefit of increased energy and greater ability to focus on mental challenges and you've gone one great recipe for success.
Savory & Sustainable: Eating Well to Save the Planet...and Ourselves
Systemic and local problems with our access to healthy food, food choices and supply are putting our health and the health of the environment at stake. Our planet is getting sick off our "fast food lifestyle" as well. Alex Jamieson's revealing lecture increases public awareness about food choices that are healthy for people and the environment -- on land and in the ocean. A cooking demonstration and tasting option is available within certain lecture settings.
Nutrition Secrets to Help You Stand Out, Get Noticed and Succeed
Eating well isn't just about eating for nutrition's sake. It's about fueling your life, your passions and what's important to you. And you're not going to be able to do that eating a Standard American Diet full of artificial, chemical-laden, low-quality gunk. Come learn what to eat that will help you get where you want to go.
Related Speakers View all
---
Amanda Russell

Digital Marketing & Branding Strategist, Professor ...

Linda Evans

Golden Globe and Emmy Award Winning Actress, Known f...

Olivia Ward

Winner of "Biggest Loser" Season 11

Lisa Oz

Best-Selling Author, Producer, Host & Entrepreneur

Keri Glassman

Nutritionist, Author, Founder and CEO of Nutritious ...

Soleil Moon Frye

Social Media Expert, Entrepreneur & Eco-Leader; Auth...

Dr. Holly G. Atkinson

Award-Winning Medical Journalist

Alison Sweeney

Actress & TV Personality Known for "Days of Our Live...

Dr. Sharon Allison-Ottey

Women's Health Advocate and Strategist

Ali Vincent

First Female Winner of "The Biggest Loser"

Giuliana Rancic

Entertainment Journalist & Breast Cancer Survivor

Julie Hadden

Author, speaker & star of The Biggest Loser Season 4

Suzanne Somers

Celebrity Alternative Medicine Advocate, Author & Br...

Nancy Snyderman, MD

Former Chief Medical Editor of NBC News

Jane Powell

Actress, Entertainer, Arthritis Prevention, "Living ...

Dr. Miriam Nelson

Director, Center for Physical Activity and Nutrition

Shannon Miller

Olympic Gold Medalist, Health Advocate & Cancer Surv...

Nastia Liukin

Olympic Gold Medal Gymnast

Lisa Leslie

WNBA Champion, Olympic Gold Medalist & Author of "Do...

Jackie Kallen

Boxing manager, inspiration for the film "Against th...
More like Alex