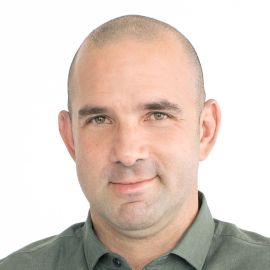 Alex Salkever
Futurist, Author of "The Driver in the Driverless Car: How Our Technology Choices Will Create the Future"
Alex Salkever is the best-selling author of "The Driver in the Driverless Car: How Our Technology Choices Will Shape the Future," a finalist for the 2017 Financial Times / McKinsey Book of the Year Award. In that book with co-author Vivek Wadhwa examines existential questions such as: Will AI and robots take all our jobs? Will our children have genetically altered babies? And will people no longer be allowed to drive cars. In this book, and throughout his life, Salkever examines the impacts and consequences rapidly advancing technology development has on our lives, our relationships and our jobs.
Salkever is a lively public speaker and a natural storyteller who loves talking to people. He has an eclectic history as writer, journalist, technology executive, futurist and public intellectual. He has written articles and opinion pieces in dozens of publications including Wired, The Washington Post, Inc. Magazine, TechCrunch, The Christian Science Monitor, and Salon. He started his career as a freelance writer living in Hawaii, where he covered the islands and the Pacific - a once in a lifetime adventure that allowed him to surf giant waves, climb misty isolated mountains in search of endangered species, peer at the stars from the giant telescopes atop Mauna Kea, and eat vast quantities of sushi. He then became the technology editor of BusinessWeek.com, covering the Dot-Com Boom and subsequent bust. He later worked as a senior marketing executive at a broad variety of technology companies, most recently at Mozilla, the maker of the Firefox browser where he served as Vice President of Marketing. His first book with Wadhwa, "The Immigrant Exodus" was named by The Economist to the as one of the Business Books of the Year in 2012. His most recent book, "Your Happiness Was Hacked: Why Tech Is Winning The War To Control Your Brain And How To Fight Back", was also praised by a variety of top publications including Wired Magazine, and by leading figures, including happiness expert Gretchen Rubin and prominent wellness expert Dean Ornish.
Related Speakers View all
---
Jana Eggers

CEO of NaraLogics; Innovation & AI Expert

Beena Ammanath

Executive Director of Deloitte AI Institute & Founde...

Chris Messina

Inventor of the Hashtag (original proposal), Formerl...

R "Ray" Wang

Founder, Chairman & Principal Analyst at Constellati...

Erik Qualman

Top Digital Transformation Expert, Futurist & Bestse...

Jack Shaw

Corporate Financial Executive, Software Company Exec...

Ben Pring

Widely Acknowledged IT Futurist & Thought Leader; Co...

Danielle Feinberg

Director of Photography at Pixar Animation Studios; ...

Story Musgrave, M.D.

Retired NASA Astronaut; Physician & Professor at Art...

Uri Levine

Entrepreneur & Co-Founder of Waze

Mitch Lowe

Former Co-founding Executive of Netflix; Former Pres...

John Rossman

Former Amazon Executive, Author & Expert on Digital ...

J.R. Martinez

Actor, Best-Selling Author, Motivational Speaker, Ad...

Dr. Michio Kaku

World-Renowned Futurist & Theoretical Physicist

Lolita Taub

Latina Tech Venture Capitalist; Co-Founder & General...

Josh Linkner

Five-Time Tech Entrepreneur; Hyper-Growth CEO; NY Ti...

Nicole Yeary

Founder & CEO of Ms.Tech, A Company That Aims to Sup...

Brian Solis

Digital Analyst, Futurist & Author of "What's the Fu...

Jordan P. Evans

NASA Engineer; Key Leader of the Mars Science Lab Cu...

Ayesha Khanna

The Leading Expert on Our Intelligent Future
More like Alex