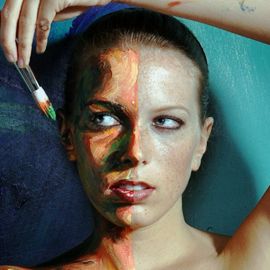 Alexa Meade is a mixed-media painter and installation artist, best known for her portraits painted on the human body and set against painted backgrounds, that turn real life people into seemingly 2D works of art. She takes a classical concept — trompe l'oeil, the art of making a two-dimensional representation look three-dimensional—and works in an opposite direction. Her aim is to do the opposite, to collapse depth and make her living models into flat pictures. The result is walking, talking optical illusions, 3D paintings that confuse how the eye processes objects in space.
In corporate settings her work can be customized to incorporate attendees, who have opportunities to photograph themselves within the artwork, and post them for colleagues and friends through social media outlets. Within the art world, Alexa's art has been exhibited at the Saatchi Gallery in London, The Smithsonian's National Portrait Gallery in DC, Postmasters Gallery in NYC, and Galerie Ivo Kamm in Zurich, Galerie Ingo Seufert in Germany, and Galerie Edouard Mazel in Brussels. Alexa has delivered keynote speeches about her work at the Wired Conference, National Geographic, and TEDGlobal.
Alexa's work is being written into art history textbooks around the world. She has given lectures at the California Institute of the Arts, UC-Berkeley, National Geographic London, WIRED, and the TED Global Conference. Her TED talk "Your Body is my Canvas," has been viewed millions of times. She worked with space-time researchers at the Perimeter Institute for Theoretical Physics and has also painted portraits of many individuals of note, including triple Grammy Award winner Gotye. Alexa's work has been featured in The Wall Street Journal, Washington Post, NPR, CNN, Today Show, Nippon TV, BBC, Guardian, and hundreds of other media outlets around the world.
Alexa has been the recipient of numerous awards and honors. The short film Color of Reality was granted the "Art as Impact Award" by CNN and was included in the National Civil Rights Museum's "Freedom Awards Ceremony." Alexa was honored with the "Disruptive Innovation Award" by The Tribeca Film Festival. She accepted an invitation to the White House under President Barack Obama and she has twice achieved the coveted #1 spot on Reddit.com, "The Frontpage of the Internet."
Related Speakers View all
---
Shirin Neshat

Iranian Visual Artist; Focuses on Social, Cultural a...

Cesar Kuriyama

Director, Producer & TED Speaker; Known for 1 Secon...

Laolu Senbanjo

Performance & Visual Artist Whose Art Has Been Featu...

Kehinde Wiley

Visual Artist Specializing in Portrait Painting; Pai...

Manuel Lima

Interaction Designer, Information Architect & Design...

Cleo Wade

Artist, Poet & Author

Danielle Feinberg

Director of Photography at Pixar Animation Studios; ...

Mark Venaglia

Contemporary Realist Artist

Paul Topolos

Illustrator & Concept Designer at Pixar Animation St...

Kerry James Marshall

Artist Known for Using African-American Life & Histo...

Charles Williams

Charles Williams builds community for young artists

Tiffany Shlain

Emmy-Nominated Filmmaker & Founder of the Webby Awards

Robert Ballard

Renowned Ocean Explorer & Scientist

Erik Wahl

Internationally Recognized Graffiti Artist, Entrepre...

Paola Antonelli

Senior Curator at the Museum of Modern Art in the De...

Austin Hill Shaw

Author, Architectural Designer & Creativity Expert

Alex Katz

American Figurative Artist

Abha Dawesar

Award-Winning Novelist, Artist, TED Speaker & Head o...

Phil Hansen

Internationally Recognized Multimedia Artist, Author...

Damian Woetzel

Director, Arts Program, The Aspen Institute; Artisti...
More like Alexa