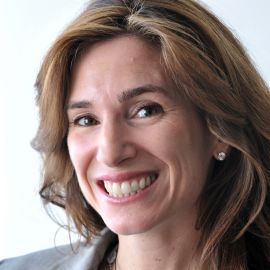 Alexandra Drane
Co-Founder, Chief Visionary Office & Chair of the Board of Eliza Corporation
For over 20 years, Alexandra Drane has focused on using technology to help people live happier, healthier and more productive lives. Her strategic use of technology to engage people in their health has been adopted by the nation's top healthcare organizations and her human-centered design approach has been applied to government, academic and commercial enterprises.
In her most recent role, Drane served as Chief Visionary Officer and Chair of the Board of Eliza Corporation. As co-founder and former President of the company, Drane helped Eliza evolve from a pure technology to a key part of the engagement strategies at the nation's leading healthcare organizations. Her first-to-market ideas and design approaches result in higher consumer satisfaction, improved health and wellness measures and reduced healthcare spending.
Drane's passion for engagement and authenticity is reflected in her mission-driven work. In October 2008, Drane co-founded Engage with Grace, a not-for-profit movement that has proven to be a safe place for individuals looking for information, support and guidance about end-of-life discussions. She is also co-founder of a non-profit, web-based movement called SeduceHealth that aims to reframe how the healthcare industry communicates with the people it serves by adding greater passion, joy and inspiration.
Some of Drane's contributions include introducing the concept of "The Unmentionables" -- the idea that life context issues such as caregiving and financial stress have measurable impact on health, productivity and spending, and that the healthcare industry has a responsibility to address them. This notion of "The Unmentionables" has been named a top-five healthcare trend and the Vulnerability Index that Drane branded to assess and address these issues has now been deployed to tens of thousands of people.
Drane is a leader who believes that big challenges require big risks – as well as the humility to understand when something isn't working, and to learn from those experiences. She brings the full force of her experience, vision, and determination to address head-on the biggest challenges that we have as individuals, as an industry, and as a nation – becoming our healthiest, happiest, most successful selves.
Drane holds a bachelor's degree in economics from Tufts University, where she graduated summa cum laude and Phi Beta Kappa. She sits on the Board of Advisors of TEDMED, the Harvard Executive Sleep Council and is Vice Chair of the Board of Trustees for Beth Israel Deaconess Medical Center (a Harvard Teaching Hospital) in Boston, MA. Drane is a member of the Health Executive Leadership Network, Women Business Leaders of the U.S. Health Care Industry Foundation and is a trustee of several charitable trusts.
Drane was named one of Disruptive Women in Health Care's Women to Watch in 2014, Boston Globe's 2013 Top 100 Women Leaders and the 2013 North of Boston Business Woman of the Year by the Daily Item. She also has been named to the Boston Business Journal's "40 Under 40" list and appears on the Healthspottr Future Health 100 list, which includes some of the most creative and influential people working in healthcare today. Bringing passion, humor, authenticity and inspiration to a global audience, Drane is one of the most sought-after speakers and has keynoted at high-visibility industry events, including TEDMED, Health 2.0, Strata Rx, MedicineX and more.
Videos
---
Speech Topics
---
Big Data or Better Questions?
Historically, the health care space has done a whole lot of 'talking at' and 'lecturing to.' However, it does not do a whole lot of listening to what really matters and to what really resonates. Alexandra Drane feels that instead of offering up their opinions to the millions of nameless, faceless individuals out there struggling, they should explain how real life meets health. The healthcare space is sitting on a mess of data — actual data reflecting how real people live, think and interact with the world around them. It's time to pore through the data, listen really hard and focus on separating signal from noise. Looking for what is really there as opposed to what we think should be there can help us open our minds and our warehouses to consider the following questions: Is it bigger data we need? Or is it higher fidelity, more relevant data that's missing? Drane asks her audiences: Once you've tamed your big data, what are you going to do with what you learned?
What Five Questions Can Save Your Life or End It?