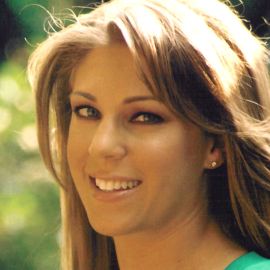 Alexandra Robbins
Journalist & Bestselling Author; Her Books Include "Secrets of the Tomb: Skull and Bones, the Ivy League, and the Hidden Paths of Power"
Alexandra Robbins, a 28-year-old literary phenom who has been called the spokesperson for her generation, has landed on the New York Times bestseller lists with multiple books for good reason: she has a knack for predicting the Next Big Thing and then hitting the right nerves. She regularly appears on national television, including shows such as 60 Minutes, The Today Show, Oprah, and The View, and has written for several publications, including Vanity Fair, The New Yorker, Atlantic Monthly, Cosmopolitan and The Washington Post.
Hailed by the media as "an excellent stylist and a first-rate mind," "a media celebrity," and "a bold new voice," Robbins is a lively award-winning speaker who lectures passionately on a number of topics. Her expertise on the issues plaguing young people in American society is unparalleled and consistently in high-demand. Perfect for a variety of audiences, Robbins uses her charm and intelligence to give an engaging and informative presentation.
Robbins' latest book, Conquering Your Quarterlife Crisis, the follow-up to Quarterlife Crisis, is the go-to guide for young adults in their late teens through late 30s, and for their parents, relatives, friends and advisers. Like its accompanying lecture, Conquering Your Quarterlife Crisis offers advice, tips, strategies, and overnight solutions to conquer various specific issues and questions such as "What if I don't know what I want?" "When do I let go of my dream?" "How do I know if I'm dating 'The One'?" and "How do I weigh doing something I love versus making enough money?"
Pledged: The Secret Life of Sororities, Robbins' fast-paced, undercover account of sorority life, blew the lid off the intriguing world of the mainstream Greek system and propelled her to household-name status at universities nationwide. Her pro-Greek lecture about sororities both unearths secrets and scandals of Greek life for non-Greeks, and educates Greeks on how to improve their reputation and experiences.<
Robbins' Secrets of the Tomb: Skull and Bones, the Ivy League, and the Hidden Paths of Power remains the definitive book on the super-elite secret society to which both George W. Bush and John Kerry belong. A spectacular feat of investigative reporting, Secrets of the Tomb is more than just an exposé of the inner workings of one of the nation's most secretive and powerful societies - it is also a provocative exploration of our collective obsession with conspiracy and connection.
Robbins' first book, Quarterlife Crisis, was a global sensation that explored the difficulties of leaving college and entering the "real world." The first self-help book aimed at this age group and addressing this issue, Quarterlife Crisis showed a generation of modern twentysomethings that they were not alone in their confusion and anxiety about life after college. The point of Quarterlife Crisis was to identify the problems of 18-39-year olds; the point of Conquering Your Quarterlife Crisis is to solve them.
Videos
---
Speech Topics
---
The Pressure to Succeed
a lecture for high school and middle school students, parents, teachers, and communities about calming down during the schooling years
How to Figure Out What to do With Your Life
a lecture for college students and young adults
"The Secrets of Popularity: Being Excluded Doesn't Mean Anything's Wrong With You": a lecture for high school and middle school students, parents, teachers, and communities about social pressures
Pledged and related Greek issues
Stress, pressure, and alcohol awareness
The Quarterlife Crisis and other college and twentysomething issues
Secrets of the Tomb, Skull and Bones
Journalism, writing, and publishing
Other lecture and seminar topics available upon request
Related Speakers View all
---
Lois Lowry

Newbery Medal-Winning Author of "Number the Stars" a...

Meg Wolitzer

Bestselling Author of 'The Interestings" & "The Fema...

Marc Brown

Children's Book Author & Creator of "Arthur"

Jennifer L. Holm

Three-Time Newbery Honor-Winning & New York Times Be...

Joyce Maynard

Former New York Times Reporter & Columnist; Best-Se...

J.A. Jance

NY Times Best-Selling Murder Mystery Author

Amy Waldman

Journalist, Author, "The Submission"

Nikki Giovanni

Poet, Educator & Best-Selling Author

Bill Dedman

Pulitzer Prize-Winning Investigative Reporter for NB...

Myla Goldberg

Acclaimed Author, Best Known for "Bee Season"

Jane Yolen

Author, Editor & Writer of Fantasy, Science Fiction ...

Debbie Dadey

Author of Over 145 Children's Books, Including "The ...

Sonia Sanchez

Renowned Scholar, Poet, Playwright & Activist

Rainbow Rowell

Author Known for "Landline," "Attachments," "Fangirl...

Philipp Meyer

Fiction Writer Known for "The Son" and "American Rust"

Sharon Creech

Sharon Creech is an American writer of children's no...

HG Bissinger

Honored and Distinguished Writer

Tom Kizzia

Alaskan Writer and Journalist; "Pilgrim's Wilderness"

Rita Dove

Former Poet Laureate of the United States and Consul...

Lily Koppel

Bestselling author of "The Astronaut Wives Club"
More like Alexandra