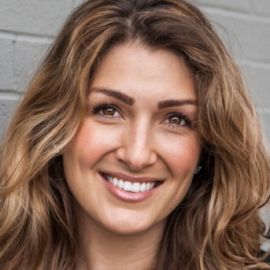 Alexis Jones
Female Empowerment Activist & Author of "I Am That Girl: How to Speak Your Truth, Discover Your Purpose, & #bethatgirl"
Alexis Jones is an internationally recognized speaker, media personality, activist, and author. Originally from Texas, Jones grew up with four older brothers and moved to Los Angeles where she completed her undergrad and Masters both from USC. Jones founded the non-profit I AM THAT GIRL (501c3), which currently has a 1.2M+ online community and chapters in 24+ countries. Jones hosted a TV show on the Red Carpet, worked on shows at Fox Sports, ESPN, CBS, MTV, and TLC. She also founded the company ProtectHer, the first ever educational program for male athletes on the importance of respecting women.
Jones has consulted for all three seasons of "13 Reasons Why" and executive produced "A Brave Heart: The Lizzie Velasquez Story" which received nine out of nine film festivals awards after its debut at SXSW. Living at the intersection of activism and entertainment, she has been invited to speak at The White House, The United Nations, Harvard, Stanford, ESPN, NIKE, Pepsi, Google, DELL, SXSW, The NFL and The Girl Scouts.
Jones most recently won The 2018 Jefferson Award, our country's highest national honor for public service alongside Shaquille O'Neal and Bryan Stevenson. She has been featured as Oprah's #SuperSoul100, AOL's MAKERS, was an Ambassador for L'Oreal's STEM initiative, DELL's #Inspire100 List, Fast Company's "Female Trailblazers," ESPN's "Pop Culture's Top Ten," Girl Scout's Woman of Distinction and highlighted as one of the five most influential women in Texas as a Profiles in Power winner.
Speech Topics
---
Dreams to Reality: Pursuing Your Passion at All Costs
Be That Girl: Modern Girls on a Mission
Today's expectations of beauty can leave many girls and women feeling like outsiders. However, Alexis Jones wants to redefine the meaning of "beautiful" and ignite an empowering revolution for females that will help them see themselves in a different light. This inspiring talk reveals the reality behind many of the images women see in the media and explains the pitfalls of relying on outside appearance as a measurement of self-worth. Instead, Alexis encourages girls to look inward for purpose, value, and power. What does it mean to be a powerful woman? How can you find strength in your imperfections? How can you use your unique voice to lift up other women instead of tearing them down? Alexis will answer these questions and teach you how to be that independent, confident girl who dares to lead other women into changing the world.
Leading with Passion: Trailblazing in the Twenty-First Century
"You wake up everyday, and you choose your attitude." This is just one of the many invigorating mantras of Alexis Jones, who believes that, with the right mindset, nothing is impossible to achieve. By encouraging a brave step outside of their comfort zones and taking bold moves to overcome fear, this talk inspires audiences to destroy their former ideas of "success" and discover fresh approaches to finding their own prosperity in the new millennium.
Dreams to Reality: Pursuing Your Passion at All Costs
Social Entrepreneurism: Making Money Doing What You Love
Alexis is certainly not confined to these topics and is willing to work with her clients to create tailor-made speeches.
That Girl 101
Better understanding Millennial girls' thoughts, beliefs, behaviors, and expectations
Learning about the unique pressures young girls face in a media driven, air-brushed world
Insight on the most effective way to communicate and build rapport with Millennials
Understanding how our society's unrealistic, unattainable definition of beauty is crippling our girls' confidence
What changes need to happen in order to produce powerful female leaders in the future
Related Speakers View all
---
Shannon Miller

Olympic Gold Medalist, Health Advocate & Cancer Surv...

Lisa Leslie

WNBA Champion, Olympic Gold Medalist & Author of "Do...

Ann Shoket

Former Editor in Chief of Seventeen Magazine, Author...

Shiza Shahid

Entrepreneur, Technologist, Investor, Impact Leader ...

Marilyn Tam

Best-Selling Author, Consultant, Board Certified Exe...

Melanne Verveer

Director of the Georgetown Institute for Women, Peac...

Jen Welter

First Female Coach in NFL History; Pro Football Play...

Erin Brockovich

Consumer Advocate, Author, TV Host & Environmental A...

Fran Hauser

Media Executive, Startup Investor & Best-Selling Aut...

Linda Alvarado

CEO of Alvarado Construction & National Women's Hall...

Kristie Kennedy

Women's Worth & Wellness Expert, TEDx Audacious Lead...

Erin Gruwell

Founder & Executive Director of the Freedom Writers ...

Betsy Myers

Women's Business and Leadership Expert; Author of "T...

Libby Gill

Leadership Expert, Executive Coach & Award-Winning A...

Stacy Allison

Businesswoman, Adventurer, Author & Motivational Spe...

Jan Fields

Former President of McDonald's USA & Chairman of the...

Danielle Feinberg

Director of Photography at Pixar Animation Studios; ...

Lizzie Velasquez

Motivational Speaker; Author of "Lizzie Beautiful" &...

Shawn Johnson East

Olympic Gold Medalist in Gymnastics, "Dancing with t...

Joan Lunden

Award-Winning Journalist, Bestselling Author & Healt...
More like Alexis