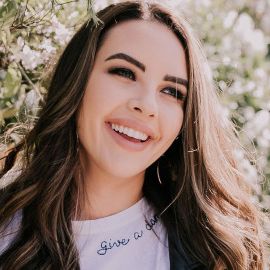 Alexis Haines hosts the raw and resonant podcast Recovering from Reality, a platform for people who would rather wake the fuck up rather than have more "fun problems". Inspired by her public journey from reality TV sensation and heroin addiction to sobriety, motherhood, and wellness, Alexis is living proof that you can heal yourself - and that hot and woke aren't mutually exclusive.
Now a mother, doula, wife, writer, and mental health advocate, this former wild child and forever valley girl knows that whatever your struggle looks like, you are worth the journey back to wholeness. Alexis got sober at nineteen years old after facing up to six years in the correctional system due to a burglary conviction as a member of the notorious "Bling Ring." As the star of the E! Reality series Pretty Wild, Alexis became a media sensation after her public meltdown became a viral meme. Her firsthand experience with substance abuse combined with the explosive effects of social media storytelling turned her rock bottom into a reinvention tour; igniting a movement to eradicate shame around the stories that inevitably save us - if we are brave enough to share them with others.
Bold, fresh, modern, and accessible, Alexis shares her authentic truth with the world as a way of inspiring others to do the same. A survivor of the entertainment industry, drug abuse, eating disorders, rape, physical violence, and childhood sexual trauma, Alexis created Recovering from Reality to get real about life's challenges and empower others to see pain as a portal for growth. At the end of the day, you can be anything you want - but be authentic about it.
Videos
---
Related Speakers View all
---
Jonathan Van Ness

Hair & Beauty Expert, Author, Television Personality...

Jessika Rovell

Attorney, Naval Intelligence Officer, and Sexual Vio...

Elisa Fortise Christensen

Author, Poet & Motivational Speaker

Rebecca Bender

Sex Trafficking Survivor, Advocate & Author

Adam B. Hill

Pediatric Palliative Care Physician, Author & Mental...

Holly Whitaker

Founder of Hip Sobriety, Podcaster & Author

Laura McKowen

Author, Teacher & Mental Health Advocate

Carlotta Taylor

Best Selling Author, International Certified John Ma...

Lori Harder

Fitness Expert & Author of "A Tribe Called Bliss"

Matt Johnson

On Target Living, President & Human Capacity Expert

Marc Lewis, Ph.D.

Neuroscientist and Professor of Developmental Psycho...

Pinklon Thomas

Motivational Speaker & Two-Time Former Heavy Weight ...

Robin Quivers

Radio Personality; Author; Actress; News Anchor & Co...

Marti MacGibbon

Humorous Inspirational Speaker, Certified Mental Hea...

Cameron Douglas

Recovering Addict, Author, Actor & Son of Michael Do...

Maureen McCormick

Actress Known for "The Brady Bunch" and Season 23 of...

Caron Asgarali

Educator, Author, Inspirational Speaker, Survivor of...

Lucy Hone

Resilience Expert & Researcher

Brendan McDonough

Granite Mountain Hotshot & Subject of the Film "Only...

Patrick J. Sweeney

Best-Selling Author of "Fear is Fuel", Adventure Key...
More like Alexis