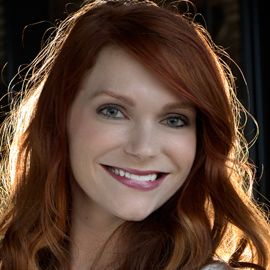 Refreshingly unique, Amanda is not one of those speakers who was very successful and then starting speaking to others about her success. Amanda is an active practitioner, present-tense, in the fields of selling, running a business, leading people and facing all the same challenges as the audiences she speaks to. Her relevant content and fresh perspective on what it takes to be original, memorable and successful in today's world is based on her trial and error approach that is ever changing, never boring and always current in today's market.
Amanda is a Founding Partner at Southwestern Consulting™, an international, multi-million dollar sales consulting organization, that focuses on creating systems to increase performance. Her involvement in Southwestern Cons ulting™ started in 2006 when she traveled the country working with over one thousand U.S. based sales offices, training them on best practices in sales and business. Amanda is also the Founder of Southwestern Speakers, a full service business within Southwestern Consulting™ that focuses on developing business improvement products, online content and training programs for today's leading companies including Wells Fargo, Mass Mutual, AFLAC and DIRECTV.
This constant involvement in a variety of industries, generations and overall business experience uncovered one of the biggest challenges businesses and people, face today:
• How do you stick out when there is more competition than ever before?
• How do you get people to remember you when there are 10 others just like you next in line? • How do you learn to anticipate and exceed expectations?
Amanda is also a million dollar producer, Senior Consultant, Executive Coach and Keynote Speaker with Southwestern Consulting™. She speaks throughout the country to thousands of sales professionals every year in coordination with her upcoming books Unspoken: Redefining Expectations Between Men and Women in the World of Work and & Then Some: The Art of Exceeding Expectations. She is a featured speaker for the Better Business Bureau, Business Journal and Chambers of Commerce all across the country.
Videos
---
Speech Topics
---
Exceeding Expectations & Then Some
Throughout this course, you will learn the various generational outlets of building relationships, creating loyalty and locking out competition. You will learn techniques for implementing consistent systems of follow-up and follow-through scheduling, social media, text, personalized service, automated systems and the overall the art of exceeding expectations in every possible way. In this interactive session, we will uncover the "how to" behind being the best at what you do and making sure your clients know it, feel it and share it with others.
Gender Communication Unspoken
This is a communication course on how to work with and manage the opposite gender. Explore the different verbal and non-verbal communication of men and women. Learn why this effects how they think, act and re-act differently in business and personal situations. This course is meant to develop effective communication between men and women to increase overall productivity and efficiencies in the everyday work environment.
Selling with Social Media
Learn how to use Linkedin, Pinterest and Facebook as a means of personal branding to find prospects, grow your referrals, keep in touch with clients and grow your current book of business.