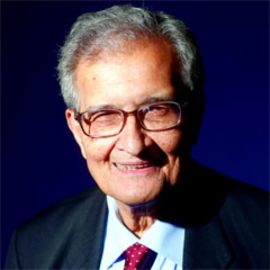 Amartya Sen is Thomas W. Lamont University Professor, and Professor of Economics and Philosophy, at Harvard University and was until 2004 the Master of Trinity College, Cambridge. He is also Senior Fellow at the Harvard Society of Fellows. Earlier on he was Professor of Economics at Jadavpur University Calcutta, the Delhi School of Economics, and the London School of Economics, and Drummond Professor of Political Economy at Oxford University.
Amartya Sen has served as President of the Econometric Society, the American Economic Association, the Indian Economic Association, and the International Economic Association. He was formerly Honorary President of OXFAM and is now its Honorary Advisor. His research has ranged over social choice theory, economic theory, ethics and political philosophy, welfare economics, theory of measurement, decision theory, development economics, public health, and gender studies. Amartya Sen's books have been translated into more than thirty languages, and include "Choice of Techniques" (1960), "Growth Economics" (1970), "Collective Choice and Social Welfare" (1970), "Choice, Welfare and Measurement" (1982), "Commodities and Capabilities" (1987), "The Standard of Living" (1987), "Development as Freedom" (1999), "Identity and Violence: The Illusion of Destiny" (2006), "The Idea of Justice" (2009), and (jointly with Jean Dreze) "An Uncertain Glory: India and Its Contradictions" (2013).
Amartya Sen's awards include Bharat Ratna (India); Commandeur de la Legion d'Honneur (France); the National Humanities Medal (USA); Ordem do Merito Cientifico (Brazil); Honorary Companion of Honour (UK); Aztec Eagle (Mexico); Edinburgh Medal (UK); the George Marshall Award (USA); the Eisenhauer Medal (USA); and the Nobel Prize in Economics.
Videos
---
Related Speakers View all
---
Joseph Stiglitz

American Economist, Professor at Columbia Universit...

Muhammad Yunus

Nobel Peace Prize Laureate & Founder of Grameen Bank...

Jeremy Rifkin

Leading Global Technologist, Futurist, Authority on ...

Sir Richard Branson

Businessman & Founder of Virgin Group

Parag Khanna

Leading Geo-Strategist & Author

Harry Markopolos

The Bernie Madoff Whistleblower

Daniel Altman

Sports Analytics & Strategy Expert

Sebastian Copeland

Adventurer, Environmental Activist, Award-Winning Ph...

R "Ray" Wang

Founder, Chairman & Principal Analyst at Constellati...

Ray Kurzweil

Chairman of Kurzweil Technologies; Inventor; Futurist

Daniel Kahneman

Retired Professor of Psychology & Public Affairs at ...

Gary Hamel

Internationally Renowned Expert on Business Strategy...

Geoff Colvin

Editor & Columnist at Fortune Magazine; Author of "H...

Ram Charan

World-Renowned Business Advisor, Execution Expert & ...

James Canton

Futurist, Author & Visionary Business Advisor

Afra Raymond

Afra Raymond is President of the Joint Consultative ...

Matthew Bishop

Managing director, Rockefeller Foundation and Former...

Donald Trump

45th President of the United States; Businessman & T...

Brian Tracy

Authority on Human Potential & Personal Effectivenes...

Mitt Romney

Former Governor of Massachusetts, 2012 Republican Pr...
More like Amartya