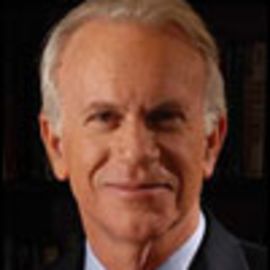 Amb. James K. Glassman
James K. Glassman was born January 1, 1947 in Washington, D.C. and is an American conservative editorialist, journalist, diplomat and author. He is currently the host of the television program "Ideas in Action," which airs on PBS member stations across th
James K. Glassman was born January 1, 1947 in Washington, D.C. and is an American conservative editorialist, journalist, diplomat and author. He is currently the host of the television program "Ideas in Action," which airs on PBS member stations across the country. On December 11, 2007 Glassman was nominated by President George W. Bush to replace Karen Hughes as the Undersecretary of State for Public Diplomacy. In 2007, Glassman became Chairman of the Broadcasting Board of Governors, an independent federal agency that provides programming about America to non-American overseas audiences via the Voice of America, Radio Free Europe/Radio Liberty, the Middle East Broadcasting Networks (Alhurra TV and Radio Sawa), Radio Free Asia, and the Office of Cuba Broadcasting (Radio and TV Marti). Earlier he founded The American, the magazine of ideas for business leaders, published by the American Enterprise Institute, and was its editor-in-chief and from 2005 to 2007. He is a frequent commentator on business and investing issues, and has published in newspapers around the world, including the Los Angeles Times, The New York Times, The Wall Street Journal, The Washington Post, Forbes, The Atlantic Monthly, Reader's Digest, and The Times Literary Supplement (London) He was co-author of Dow 36,000, published in 1999, which was overenthusiastic about the stock market.
On September 3, 2009, it was announced that Glassman will head the George W. Bush Institute, a public policy institute at the George W. Bush Presidential Library. The Institute will be located at Southern Methodist University.
Related Speakers View all
---
Dr. Bill Conerly

Economist and Future Forecaster; Expert in Business ...

Jeffrey Rosensweig

Director of the Global Perspectives Program at Goizu...

David L. Smith

Economist, Futurist, and Market Strategist with a Gl...

Dr. Robert Genetski

Robert Genetski's contributions in the world of econ...

Todd Buchholz

Former White House Director of Economic Policy & CNB...

Clare Zempel

business economist and top investment strategist

Jeremy Siegel

Finance Professor & Author

Bill Rutherford

President and author.

John Caslione

President and CEO of Andrew-Ward International, Inc....

James Citrin

Partner, Spencer Stuart & Author on Leadership and C...

Adam Nash

VP of Product & Growth for Dropbox, Lecturer at Stan...

Sallie Krawcheck

Founder & CEO of Ellevest, Leadership Expert, Author...

Daniel Altman

Sports Analytics & Strategy Expert

Leslie Dodson

Reporter & Videographer Covering International Finan...

Mark Zinder

Futurist & Leading Trend Forecaster in Finance and E...

Roger Selbert

Business Futurist & Speaker Specializing in Economic...

Joseph Stiglitz

American Economist, Professor at Columbia Universit...

Ben Stein

Political Economist, Commentator, Author & Actor

Jeremy Rifkin

Leading Global Technologist, Futurist, Authority on ...

Harry Dent Jr.

Famed Economic Futurist, Best-Selling Author and Fin...
More like Amb.