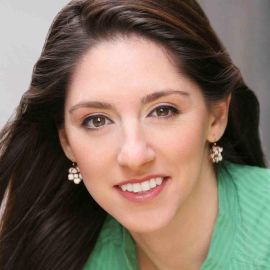 Amber Madison
Sex & Relationship Therapist, Author, & Co-Founder of Diversity & Inclusion Firm, Peoplism
Amber Madison is a nationally noted sex and dating expert, author, and award-winning lecturer who speaks nationally. Madison is also the co-founder of the diversity and inclusion firm, Peoplism.
Madison attended Tufts University where she wrote a popular sex column and studied human sexuality through a double major in Community Health and American Studies. After graduating in 2005, Madison spent nine years as a freelance author and sex educator. During this time she published three books: Hooking Up: A Girl's All-Out Guide to Sex and Sexuality (2006), Talking Sex With Your Kids: Keeping Them Safe, and You Sane--By Knowing What They're Really Thinking (2010), and Are All Guys Assholes? (2011). She also traveled the country speaking with teens and adults about sex and relationships. She's spoken everywhere from Harvard University to the University of California at Irvine to The Fieldston School. In 2008, she won the sexual health communication award from Choice USA.
Amber also frequently contributed to multiple national publications, such as Seventeen, Glamour Magazine, Cosmopolitan, Men's Health, Newsweek, US News, World Report, and USA Today. She has appeared on The Today Show, MTV News, NPR, and dozens of local TV and radio broadcasts, and she has been written about by Cosmopolitan, US News, World Report, the Boston Globe, USA Today and more. She is also the former sex expert of BettyConfidential.com.
From 2013 to 2016, Madison worked as a sex and relationship therapist for the New York Institute for Psychological Change. In 2016, Madison also co-founded the diversity and inclusion firm, Peoplism. Peoplism partners with companies to build more diverse, inclusive, and equitable workplaces where everyone can belong. It has worked with small start-ups, the Fortune 500, and companies of all sizes in between. At Peoplism, Madison offers a range of services from assessments to overall strategies & implementations to the company's hallmark bias-busting training that works to change the way people think.
Videos
---
Related Speakers View all
---
Jaclyn Friedman

Writer, Educator, Activist, & Author of "Yes Means Y...

Irin Carmon

Author, Notorious RBG, Senior Correspondent, New Yor...

Andrea Pino

Women's & Civil Rights Activist; Founder of End Rape...

Anna David

Sex, Dating, Relationship, & Recovery Expert; Editor...

Dr. Lindsey Doe

Clinical Sexologist and Sex Educator, Known for the ...

Kori Cioca

U.S. Coast Guard Veteran, Sexual Assault Survivor & ...

Laci Green

Vlogger, Public Sex Educator & Feminist

Jenny Lynn Anderson

Corporate Journalist, Sexual Assault Survivor & Auth...

Iris Krasnow

Best-Selling Author & Relationship Expert

Jessika Rovell

Attorney, Naval Intelligence Officer, and Sexual Vio...

Leslie Bennetts

Vanity Fair Contributing Editor and Expert on Women ...

Asra Nomani

Journalist & Author, Women's Rights Activist

Dr. Laura Berman

Sex Educator, Therapist & Researcher

Stephan Labossiere

Relationship and Dating Expert, Certified Life Coach...

Diane Rosenfeld

Law Professor & Director of the Gender Violence Prog...

Geena Rocero

Transgender Model & Advocate; Founder of Gender Proud

Rinku Sen

Indian-American Author & Activist

Janet Mock

Author, Feminist, Transgender Rights Activist, TV H...

Amy DuBois Barnett

Chief Content Officer, theGrio.com & EVP Digital, En...

Juju Chang

Emmy Award-Winning Co-Anchor of ABC News' "Nightline"
More like Amber