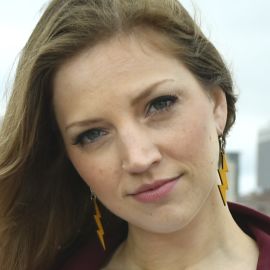 Amber Melanie Smith is an award-winning young nonprofit professional, speaker on service, leadership, and social impact, and founder and Executive Director of Activate Good, a nonprofit with a mission of inspiring everyone to find their passion for service and take action. Amber holds a degree in Social Change Leadership and a Masters in Public Administration with a focus in Nonprofit Management from North Carolina State University, where she also served as an advisor for other students pursuing careers in nonprofits.
Amber wanted to change the world since she was 12 years old. In 2004, during her undergraduate term in college, Amber took off on a two and half month cross-country road trip with her best friend, volunteering and performing random acts of kindness in over 20 states. When she returned home, she launched Activate Good. To date, Activate Good has connected people to fill volunteer needs with nearly 500 charitable organizations over 60,000 times. Her work has also included helping over 100 companies of all sizes -- from start-ups to Fortune 500 companies -- engage in impactful corporate social responsibility through employee volunteerism.
Amber was honored to receive Wake County's Commission for Women Award in 2006, the Independent Weekly Citizen Award in 2011, the Leadership Triangle's Goodmon Award in 2014, and recognition as one of Triangle Business Journal's 40 Under 40 for her work promoting a culture of service. Her writing about service and leadership, social innovation, and nonprofits has appeared in Fast Company, the Philanthropy Journal, The Nonprofit Revolution by Wethos, and other media. In 2017, Amber was appointed a commissioner on the North Carolina Commission on Volunteerism and Community Service by Governor Roy Cooper.
Above all, Amber believes every person can meet their potential and find meaning through service and helping others. She speaks at conferences and business, schools, and college events about her journey to become a leader, how to start making a difference from nothing, and lessons learned along the way.
Videos
---