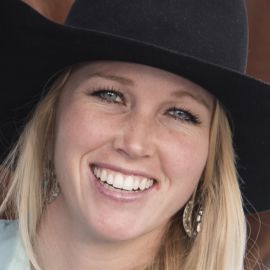 Amberley was born in California as the second to six children. Amberley fell in love with horses at a young age and began barrel racing when her family moved to Utah at her age of 7. She competed in junior rodeos and up into high school, winning multiple titles and awards. Her senior year she finished as the National Little Britches World All Around Cowgirl. Amberley was also serving as the Utah FFA State President in 2009. In January of 2010, Amberley was involved in a rollover truck accident, leaving her paralyzed from the waist down. Eighteen months after that day, with a seatbelt on her saddle, she returned to competing in rodeo. She now competes in the Women's Professional Rodeo Association in the barrel racing. Amberley has earned her place competing amongst professional barrel racers and has won multiple awards with the Cowboy and Cowgirl Hall of Fames. In 2018, Netflix released a movie based on her life titled Walk Ride Rodeo where Amberley was able to be her own stunt double for the film. Amberley shares her story of triumph over tragedy hoping she can motivate others to believe in themselves and get back on the horse.
Speech Topics
---
Walk Ride Rodeo
An inspirational message about Amberley's life journey before and after a tragic accident, leaving her paralyzed from the waist down. Her goals in physical therapy were "Walk, Ride, Rodeo." Her message of faith and determination will open your heart to the possibilities of happiness regardless of your life situation while motivating you to set the goals to overcome the challenges thrown in your path.
Little Moments
Life's little moments can become the biggest parts of our journey. Amberley shares a motivational message of how the little moments in her life have shaped her into a successful speaker and rodeo competitor. She incorporates her story of a life changing accident that took her path in an unexpected direction. Her speech will take you through the emotional journey of triumph over tragedy.
Get Back On The Horse
Amberley shares her experience from living the perfect life to it all crashing in an instant. A rollover accident leaving her paralyzed changes everything. She learns how accepting help and serving others can be such an important part of life. Amberley shows how life knocked her down, but with the help of her family, friends and faith she has worked to "get back on the horse."
Short Topic List
(Any of the following topics can be incorporated to focus points into the messages above)
Bullying
Safety
Goal Setting
Perseverance
Resilience
Service
Faith
Fear
Attitude
Stepping out of your comfort zone
Disability awareness
Related Speakers View all
---
Story Musgrave, M.D.

Retired NASA Astronaut; Physician & Professor at Art...

J.R. Martinez

Actor, Best-Selling Author, Motivational Speaker, Ad...

Amelia Rose Earhart

President of the Fly With Amelia Foundation; One of ...

Eric LeMarque

International Best-Selling Author, Olympic World-Cha...

Austin Hatch

Two-Time Plane Crash Survivor, Former College Athlet...

Jim Morris

Known for His Brief MLB Career & Subject of Disney's...

Billy Mills

Second Native American to Win an Olympic Gold Medal ...

Brian Holloway

Five-Time NFL All-Pro; Motivation & Team Building Ex...

Minda Dentler

Polio Survivor & Global Health Advocate; First Femal...

Jordan Romero

Author & Youngest Person to Climb Mount Everest

Wesley Hamilton

Executive Director of Disabled But Not Really & Moti...

Heath Calhoun

Alpine Skier & Veteran of the United States Army

Shawn Harper

Former NFL Football Player, Successful Businessman &...

Najee Richardson

"Flying Phoenix" American Ninja Warrior

Anthony McCarley

Successful Entrepreneur & Triple Crown Marathon Swimmer

Chris Ruden

World's Strongest Amputee & Type 1 Diabetic

Lauren Potter

Actress Best Known for "Glee;" Special Needs Advocate

Rudy Ruettiger

Motivational Speaker, Author & Inspiration for the A...

Coach Ken Carter

Coach, Author, Educator & Inspiration for the Film "...

Amy Van Dyken-Rouen

Six-Time Olympic Gold Medalist Swimmer
More like Amberley