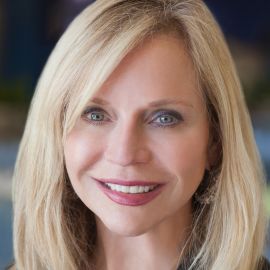 Amy Cappellanti-Wolf
Former SVP & CHRO at Symantec
Amy Cappellanti-Wolf is the former SVP & CHRO for Symantec, the world's largest cybersecurity software company, based in Mountain View, CA. In addition to serving on the executive team and managing Symantec's global human resources function, she led Symantec's Workplace/Workforce Strategy and Planning, Real Estate and Facilities organizations.
With more than three decades of experience leading companies across the high tech, entertainment and consumer products industries through complex transformations, Cappellanti-Wolf is a proven organizational design and development leader as well as executive coach focusing on talent as the key driver of business growth. Cappellanti-Wolf specializes in helping businesses survive and thrive while undergoing deep transformation and has extensive experience leading complex mergers, acquisitions and divestitures. Her focus areas include Business Transformation and Change Management, Organizational Design and Process Management, Business Partnership, Communication Strategy Facilitation, and Diversity in Tech.
As CHRO at Symantec, Cappellanti-Wolf successfully led the global organizational operating model, structure, change management and integration strategies for large scale acquisitions and divestitures. She led effectiveness strategies related to organization and people optimization, and delivered systemic program and metrics related to structure, workforce planning, talent, and real estate consolidation. Cappellanti-Wolf has deep experience in architecting HR Operating Models in support of the business with her most recent emphasis on building Talent Development and HR Solutions capability. She has delivered high-impact automation and predictive data analytics and reporting, reducing operating expense, while improving operational effectiveness. In the real estate space, she integrated workforce planning with real estate optimization, significantly reducing operating costs while also delivering award-winning workspaces for better collaboration and productivity, among other successes.
Prior to joining Symantec, Cappellanti-Wolf was CHRO at Silver Spring Networks, where she led Global HR, Real Estate, and Technical Education organizations. Cappellanti-Wolf helped to deliver a successful IPO in March 2013. She established HR infrastructure, programs, and technology to drive global scale for the fast growing hardware, software, and services business, and she led several organizational companywide restructures. Cappellanti-Wolf built and ramped an acquisition team, doubled the employee population in less than eighteen months, implemented various automation and information systems, and opened up the European, South American, and Asian offices.
From 2001 to 2009, Cappellanti-Wolf held key human resources roles at Cisco Systems, where she developed innovative leadership development programs and processes. She directly contributed to Cisco's globalization efforts by developing workforce planning and global mobility practices to resource new and emerging capabilities outside of the US. Specifically, Cappellanti-Wolf led HR for the U.S. Enterprise Sales team; Worldwide Marketing; Business Functions; and the Decision Support, Services and Operations Businesses. Prior to Cisco, Cappellanti-Wolf also led HR teams at Sun Microsystems, The Walt Disney Company, and Frito-Lay.
Cappellanti-Wolf holds an M.S. in Industrial and Labor Relations and a B.S. in Journalism and Public Relations, both from West Virginia University. Cappellanti-Wolf provides ongoing support of children and foster children as a Board member of the non-profit Silicon Valley Children's Fund and also serves an advisor to several private companies. Cappellanti-Wolf was recently named one of the top 50 most influential women tech leaders by the National Diversity Council. Cappellanti-Wolf is also an Official Member, Forbes Human Resources Council since September 2018. Cappellanti-Wolf sits on the Betterworks Board of Directors in addition to serving on Betterworks HR Advisory Council. In October 2019, Cappellanti-Wolf was named to the John Chambers College of Business and Economics at West Virginia University Roll of Distinguished Alumni. She is a frequent speaker and lecturer at industry-related conferences.
Speech Topics
---
Technology & HR Effectiveness
Navigating Change Management in M&A and Divestitures Through People
Change management is often overlooked in mergers, acquisitions, and divestitures — an unfortunate situation, since people stand at the heart of change. To avoid leaving people underemphasized, companies must establish change management planning and execution for the smooth integration (or divestment) of assets while also managing team resources across functional areas.
Surviving and Thriving Throughout Enterprise Transformation
Developing a High-Performance Culture that Enables Your Company to Grow and Thrive
Keys to Creating a Diverse & Inclusive Workforce
Mindfulness as an Integral Business Practice
Related Speakers View all
---
Jeanne Meister

Partner at Future Workplace & Bestselling Author of ...

Fran Hauser

Media Executive, Startup Investor & Best-Selling Aut...

Carin Taylor

Chief Diversity Officer at Workday

Cheryl Cran

Future of Work & Change Leadership Expert; Author of...

Josh Linkner

Five-Time Tech Entrepreneur; Hyper-Growth CEO; NY Ti...

Crystal Martin

Software Developer & Consultant at Slalom; Advocate ...

Bethanie Baynes

Founder, Breadwinning Women of the World; Director, ...

Donna Orender

CEO of Generation W & Former WNBA Commissioner

Mitch Lowe

Former Co-founding Executive of Netflix; Former Pres...

Jenn Lim

CEO & Chief Happiness Officer at Delivering Happiness

Alexandra Whittington

Global Futurist, Author, Speaker

Caroline Wanga

Interim-CEO, Essence Communications; Former VP of Di...

Afdhel Aziz

Leading Expert on Brand Purpose & Marketing Innovati...

Allison Massari

Executive Coach, Entrepreneur, Visual Artist & Burn ...

Uri Levine

Entrepreneur & Co-Founder of Waze

Amelia Rose Earhart

President of the Fly With Amelia Foundation; One of ...

Erik Qualman

Top Digital Transformation Expert, Futurist & Bestse...

Dr. Michio Kaku

World-Renowned Futurist & Theoretical Physicist

Lolita Taub

Latina Tech Venture Capitalist; Co-Founder & General...

Brian Solis

Digital Analyst, Futurist & Author of "What's the Fu...
More like Amy