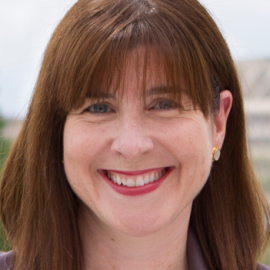 Amy Dacey is an American Democratic politician. She was the CEO of the Democratic National Committee from January 2014 until her resignation in August 2016.
Amy Dacey graduated from Auburn High School in Cayuga County, New York in 1989. She received her BA in Political Science and History from the State University of New York at Binghamton in 1993, and a Masters in Political Science from American University.
Dacey began her career at the National Foundation of Women Legislators. During the 2000 election cycle she was the Deputy Political Director of the Democratic Congressional Campaign Committee. She then served as the Deputy Political Director on the Democratic Senatorial Committee for the 2002 election cycle; the National Political Director of Keeping America's Promise, a political action committee affiliated with Democrat John Kerry; the Director of Government Relations at the Service Employees International Union; and in 2004 Dacey worked as the special assistant to John Kerry during his 2004 presidential campaign. During the campaign Dacey acted as the Traveling Political Director. During the 2006 election year she worked as the National Political Director for Senator John Kerry's national leadership PAC. In 2010 Dacey took the job of Executive Director at EMILY's List, an American political action committee that works to elect female Democrats.
She has worked on the political campaigns of Louise Slaughter and Maurice Hinchey.
DNC Chairwoman Debbie Wasserman Schultz appointed Dacey to the post of CEO of the DNC in October 2013, and began her work for the DNC in January 2014.
In 2016, Dacey gained notoriety when Wikileaks published an email in which she responded "AMEN" to an email from colleague Bradley Marshall who suggested having a plant question democratic candidate Bernie Sanders' Jewish heritage as a strategy to use the candidate's faith as a wedge to cost him votes because "It's these Jesus thing" he wrote to her, to which she replied "AMEN" in all capital letters. In early August, Dacey resigned as CEO of the DNC in wake of the email scandal.
In 2014, Dacey was inducted into the Auburn Education Foundation's Hall of Distinction. In March 2014, Dacey was the headline speaker at the Democratic Women of Cayuga County's annual spring brunch in Auburn, New York.
Videos
---
Related Speakers View all
---
Julián Castro

Former Democratic Candidate in the 2020 Presidential...

Thomas Perez

Former US Secretary of Labor (2013-2017)

Jonathan Tasini

Political & Economic Strategist, President of the Ec...

Dannel Malloy

Governor of Connecticut

Stephen Coleman

Stephen Coleman studies applied ethics, particularly...

Harold Ford, Jr.

Former U.S. Representative & Political Analyst for M...

David Addington

David Addington, a controversial former aide to Vice...

Jamal Simmons

Democratic Strategist & Political Commentator

Ken Salazar

Former Secretary of the U.S. Department of the Interior

Peter Orszag

Economist, Vice Chairman of Corporate and Investment...

Norman Ornstein

Bestselling Author, Political Analyst & Resident Sch...

Donna Brazile

Veteran Political Strategist, Bestselling Author, Fo...

Steve Beshear

Former Democratic Governor of Kentucky

James Duke Mason

Co-Chair of the West Hollywood Lesbian & Gay Advisor...

Marcia Fudge

Nominee for Secretary of Housing and Urban Developme...

Stephanie Rawlings-Blake

Former Mayor of Baltimore; Former Secretary of the D...

Tsai Ing-wen

First Female President of the Republic of China (Tai...

Domenico Lucano

Mayor of Riace, Italy

David Brock

Journalist, Author & Democratic Political Activist; ...

Al From

Founder and Former CEO of the Democratic Leadership ...
More like Amy