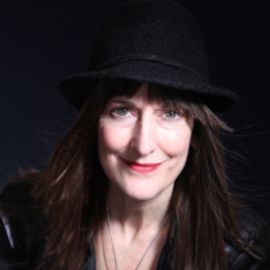 Amy Herdy
Documentary Producer, Investigative Journalist, Advocate for Ending Sexual Violence; Known for "The Hunting Ground"
For more than twenty years, Amy Herdy has specialized in covering crime and social justice issues in documentaries, as well as for both television and print newsrooms.
An investigative series she co-authored in 2003 at The Post, "Betrayal in the Ranks," outlined how the military mishandles cases of sexual assault and domestic violence. The series spurred Congressional reforms and was a top-ten Pulitzer finalist in 2004.
During her career, Herdy has won awards for her work in journalism, including an Emmy for an investigative television series she produced on the misconduct of public officials; Society of Professional Journalists awards; a Radio, Television News Directors Association award; an Associated Press award; two American Society of Newspaper Editors awards and a Military Reporters & Editors award.
Her professional engagements include, "Investigative Journalism" in Dhaka, Bangladesh in September 2011 for the U.S. State Department; "The Art of the Interview" for Investigative Reporters and Editors, Denver, July 2010; "The Art of the Interview" and "Journalism and Trauma" in Lahore, Karachi and Islamabad, Pakistan in May 2009 for the U.S. State Department; "The Art of the Interview" and "Journalism & Trauma" at Bahria University and the National University of Foreign Languages in Islamabad, Pakistan in November, 2008; "Covering Violence and Teaching Emotional Injury" in March 2007 at the University of Oklahoma, Norman for the Dart Center; a 2005 plenary for the National Center for Victims of Crime conference in Washington, D.C.; a panel for the 2005 Investigative Reporters and Editors conference in Denver, Colo.; and a 2004 plenary for the International Society for Traumatic Stress Studies in New Orleans.
Herdy has also produced several documentaries dealing with women's issues and sexual assault, including "The Hunting Ground" (2015), "The Invisible War" (2012) and "On the Case with Paula Zahn" (2009).
In 2018, Herdy won a George Polk award for her work on the Netflix documentary "The Bleeding Edge." "The Bleeding Edge" tackled the issue of medical devices being rushed to the market without sufficient testing.
Videos
---
Books
---
Related Speakers View all
---
Elizabeth Smart

Abduction Survivor, News Correspondent & Child Safet...

Amanda Nguyen

2019 Nobel Peace Prize Nominee & CEO and Founder of ...

Sparkle

Platinum Singer & Songwriter; Featured in Lifetime's...

Don McPherson

Activist, Educator, Feminist, Entrepreneur, College ...

Jenny Lynn Anderson

Corporate Journalist, Sexual Assault Survivor & Auth...

Rachael Denhollander

Lawyer & Advocate for Sexual Abuse Victims

Amy Ziering

Producer & Documentary Filmmaker; Known for "The Inv...

Adama Iwu

Senior Director, Government Relations, Visa, co-foun...

Andrea Pino & Annie Clark

Founders, End Rape on Campus

Diane Rosenfeld

Law Professor & Director of the Gender Violence Prog...

Andrea Pino

Women's & Civil Rights Activist; Founder of End Rape...

Kori Cioca

U.S. Coast Guard Veteran, Sexual Assault Survivor & ...

dream hampton

Cultural Critic, Award-Winning Filmmaker & Executive...

Jeffrey Kluger

Journalist; Editor and Writer at TIME MAGAZINE. Auth...

Judge Rosemarie Aquilina

30th Circuit Court Judge for Ingham County, Michigan...

David Von Drehle

Columnist for The Washington Post

Jessika Rovell

Attorney, Naval Intelligence Officer, and Sexual Vio...

Jamilah Lemieux

Writer, Cultural Critic, Columnist at Slate, Co-Host...

Richard Lui

Journalist, Anchor of NBC News' "Early Today Show" &...

Jaclyn Friedman

Writer, Educator, Activist, & Author of "Yes Means Y...
More like Amy