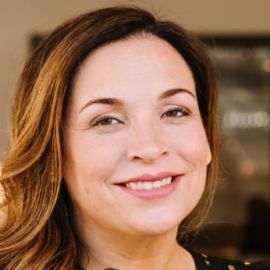 Amy Nelson is Founder and CEO of The Riveter, a national membership network of community, content, resources and coworking spaces, built by women for everyone.
A graduate of Emory University and NYU School of Law, Nelson practiced corporate litigation with a focus on high-profile First Amendment matters for over a decade in New York City and Seattle. She also served on President Obama's National Finance Committee where she co-chaired Gen44, the under 40 fundraising arm of the campaign. She previously worked with President Carter's The Carter Center.
In 2017, Nelson launched The Riveter while pregnant with her third daughter in three years and welcomed daughter number four in June 2019. The Riveter's growth outpaced WeWork's first years. Nelson has raised $20.5 million in venture capital, grown her Seattle-based company to six locations, and achieved profitability in the earliest locations.
Nelson is a contributor for Inc., and has been published broadly including in The Washington Post and The Seattle Times. She has spoken across the world on many stages, including Forbes Under 30, Cannes Lions and SXSW.
Videos
---