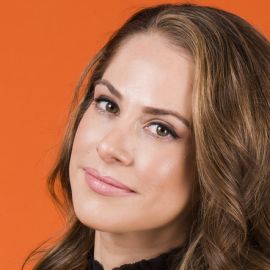 Ana Kasparian
Co-Host & Producer of The Young Turks, Co-Host of the Largest Online News Show in the World
Ana Kasparian is an Armenian-American left-wing political pundit and the co-host and producer for the online news show The Young Turks. Kasparian began working as a fill-in producer for The Young Turks in 2007, and is now co-host of the main show and host of The Point on the TYT Network. She also appeared on the TV version of the show that aired on Current TV.
Born in Los Angeles, Kasparian is the daughter of Armenian immigrant parents. Her great grandparents on her father's side experienced first hand the Armenian genocide in 1915. Ana was raised in the Reseda community of the San Fernando Valley. Kasparian grew up speaking Armenian as her first language and started kindergarten without being able to speak a word of English. Kasparian graduated from Valley Alternative Magnet High School of Van Nuys in 2004[8] and California State University, Northridge (CSUN) in 2007 with a Bachelor of Arts, Journalism (BAJ).
Kasparian was an assistant producer with CBS Radio news stations in Los Angeles, first with KFWB and then KNX. She has also worked with AOL News, YouTube, TidalTv and On Point. After becoming a fill-in host in April 2007, Kasparian became the producer and co-host with Cenk Uygur of the progressive talk radio on Sirius XM Satellite Radio and internet show/TV show The Young Turks. Kasparian says that young people are interested in news, but "they see network anchors as simply folks who read tele-prompters." She co-hosted TYT University, a show focused on issues faced by university students for some years, and now hosts another TYT Network show, The Point. Kasparian is an agnostic atheist.
She completed her Master of Political Science in 2010. She now teaches a class in journalism at CSUN.
Ana Kasparian and Cenk Uygur have been involved with many interviews in the course of the Young Turks. One of those interviews was with controversial pastor James David Manning, a right-wing U.S. Protestant fundamentalist pastor, during which he said "your contributions to this show are your boobs, and not your brains." Kasparian "fired back" at the pastor, calling the remarks he made at her "sexist." She called pastor Manning "ignorant", and noted he was a man "who got a PhD from an unaccredited institution founded." Kasparian has been interviewed for documentaries, including The Culture High in 2014.
Speech Topics
---
Generation Why: How Millennials Battle Economics Disadvantages and Disrupt Traditional Values
New Mavericks: How YTY and Digital Media Dismantles the Establishment
The Injustice System: The Biases, Double Standards, and Profit Motives that Obstruct True Justice
Related Speakers View all
---
Leslie Dodson

Reporter & Videographer Covering International Finan...

Sharyl Attkisson

Emmy Award-Winning Investigative Journalist & Author

Rachel Fine

Howard Stern Show / Watch Rachel on Howard Stern's "...

Tony Hunter

Speaker, Advisor, Chairman of Revolution Enterprises...

Jim Acosta

CNN's Chief White House Correspondent

Scott Rogowsky

Comedian & Former Host of HQ Triva

Doreen St. Felix

Writer for the New Yorker & Fomer Editor-at-Large, L...

Amani Al-Khatahbeh

Author & Entrepreneur, Muslimgirl.com

Guy Benson

Political Editor of Townhall.com and Fox News Contri...

Xeni Jardin

Founding Partner & Co-Editor of Boing Boing

Michael Steele

Conservative Political Commentator & Former Republic...

Ben Stein

Political Economist, Commentator, Author & Actor

Maithreyi Seetharaman

Director of Live Media Content & Co-Chair of Fortune...

Janice Dean

Senior Meteorologist, Co-Host & Weather Anchor on Fo...

Michelle Lee

Editor in Chief of Allure; AdWeek's Editor of the Ye...

Jim Cantore

On-Camera Meteorologist and Co-Host, "AMHQ"

Dylan Marron

Host of "Conversations with People Who Hate Me", Soc...

Megan Alexander

TV Host, Author & Brand Ambassador

Herb Greenberg

TheStreet, CNBC

Carla Babb

Carla Babb / International Broadcaster at Voice of A...
More like Ana