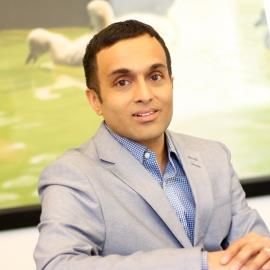 Anand Sanwal is the Founder and CEO of CB Insights, a software company that helps spot tomorrow's biggest markets, companies and competitive threats using data and probability.
CB Insights allows clients to make better and faster investment, M&A, strategy, innovation, sales, technology and product decisions. It is one of the media's most trusted resources on emerging companies and industries having been cited over 1100 times in 2015.
The company was initially funded by a series of National Science Foundation grants and subsequently raised a $10M series A from venture capital investors. It is an Inc 5000 company and has been rated as one of NY's top emerging enterprise companies.
Sanwal's previous job was managing a 50 million dollar Innovation Fund for American Express.
He also worked at one of the most well-known bubble startups, Kozmo.com, which received the largest amount of funding in NYC history for a tech startup. He worked with a small team to open up the European market for Kozmo.com.
Along with his corporate and startup experience, Sanwal also has an education from Wharton (University of Pennsylvania) along with a Bachelors of Science in Chemical Engineering.