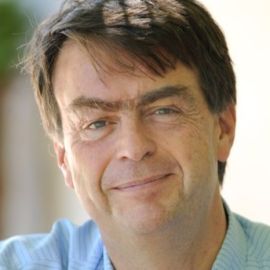 André Hoffman is the President of Mava Foundation, an organization that supports conservation that benefits people and nature, and the Vice Chairman of Roche, a Swiss multinational healthcare company.
Hoffmann is non-executive Vice President of Givaudan SA. He chairs the board of Massellaz SA as well as Nemadi Advisors Ltd. He is also a board member of the following companies : Amazentis SA, Genentech Inc., Glyndebourne Productions Ltd. and Inovalon, Inc.
In addition, Hoffmann serves on the board of the following charities: Fondation Corbillettes, Foundation Dubois Ferriere-Dinu Lipatti, Fondation ProValat, INSEAD and Paul Sacher Stiftung. André Hoffmann's main philanthropic interest is in the field of nature conservation. To support his efforts in this field, he chairs the Fondation Internationale du Banc d'Arguin (FIBA) and the Fondation MAVA. He is also Vice-President of the Fondation Tour du Valat and WWF International.
Hoffmann studied economics at St. Gallen University and holds an MBA from INSEAD.
Videos
---
Related Speakers View all
---
Seth Berkley

CEO of Gavi, the Vaccine Alliance; Medical Doctor Sp...

Dr. Anthony Fauci

Director of the National Institute of Allergy and In...

Peter Thiel

Former CEO and Co-founder of PayPal; Technology Entr...

Ray Kurzweil

Chairman of Kurzweil Technologies; Inventor; Futurist

Daniel Kraft, M.D.

Physician-Scientist; Founder of Exponential Medicine...

Dr. Michio Kaku

World-Renowned Futurist & Theoretical Physicist

Geoff Colvin

Editor & Columnist at Fortune Magazine; Author of "H...

James Canton

Futurist, Author & Visionary Business Advisor

Paul Simpson

Thought Leader on Climate Change & Chief Executive O...

Markus Mutz

CEO of OpenSC, An Impact Venture Trying to Make More...

Robin Berzin

Founder & CEO of Parsley Health

Cathy Tie

Forbes 30 Under 30 in Healthcare; Cofounder, Ranomics

Andreas Puschnik

Forbes 30 Under 30 in Healthcare; Fellow, Chan Zucke...

Yasmine Winkler

CEO, Central Region, UHC Community and State at Unit...

Alex Laskey

Founder and Former President at OPOWER

Robert Gates

Managing Partner of Windstreams Properties; Pioneer ...

Tony Fadell

Founder and CEO, Nest

Jack Choi

CEO of Anatomage, a company specializing on 3D medic...

Jack Hidary

Entrepreneur and Clean Energy Proponent.

Harry G. Broadman

Dispelling Myths About Emerging Markets Business Gro...
More like André