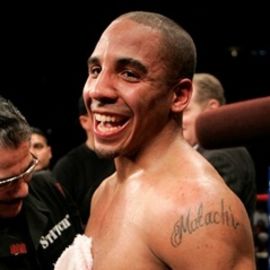 Andre Ward
American Professional Boxer; Current Lineal/WBA(Super) Super-Middleweight Champion and Gold Medalist at the 2004 Summer Olympics
Andre, as a light heavyweight, won the United States' only Olympic gold medal in boxing in the 2004 games This was the first boxing gold since 1996. Andre was born February 23, 1984. At 31, he currently still lives and trains in Oakland California. He has three sons, Andre Jr., Malachi, Micah and a daughter Amira. Andre started boxing in 1994 and won over 90 matches as an amateur. In 2002 he won the Under 19 National Championship; and was a 2 time U.S. National Champion in 2001 and 2003. His Pro debut was against Christoper Molina on the Johnson-Traver undercard in Los Angeles. Since turning Pro in 2004 he has a record of 27 wins 0 losses.
Since 2007 he has been fighting in the Super Middleweight. Andre ended a layoff of about six months with a 6-round unanimous decision over Derrick Findley on the undercard of a bout between Vitali Kopitko and former WBO light heavyweight champion Julio Gonzalez. Fighting for the first time since tearing a ligament in his left hand, Ward did look a bit rusty in winning. He is being trained by his Godfather Virgil Hunter (Andre's father died from cancer in August 2002, and he has dedicated his fights to his dad). He is signed with Roy Jones and Dan Goossen for promotion and has James Prince as manager. He also has a contract with Nike.
Andre fights with the orthodox right and southpaw stance. He has tremendous speed and technical mastery, to the point of being a coach in the ring. Andre is a polite young man and very mature for his age. His outlook is very positive and he puts a lot of faith in God.
Andre Ward- the next Sugar Ray? Maybe the next Ali!