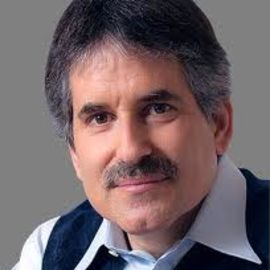 Andrew Cohen is an American spiritual teacher, bestselling author, and founder of the global nonprofit EnlightenNext and its award-winning publication, EnlightenNext magazine. His original teaching of Evolutionary Enlightenment redefines spiritual awakening within the context of cosmic evolution and highlights a new understanding of God or Spirit as the creative impulse toward change in both self and culture.
His bestselling book, Evolutionary Enlightenment: A New Path to Spiritual Awakening is the product of his 26 years of work and has garnered praise from some of today's leading spiritual and cultural figures as one of the most important spiritual works of our time. Andrew lives and works at the EnlightenNext headquarters in Western Massachusetts and spends much of his time travelling around the world giving retreats, seminars, and public talks about Evolutionary Enlightenment
Related Speakers View all
---
Dan Ariely

Behavioral Economist; Professor at Duke University; ...

Sir Richard Branson

Businessman, Founder of Virgin Group

Cody Adams

Managing Editor of The Floating University.

Calvin Trillin

Author, Columnist, Humorist & Political Satirist

Ray Kurzweil

Chairman of Kurzweil Technologies; Inventor; Futurist

An Phung

Multimedia Journalist

Virginia Postrel

Author & Columnist; Writes on The Intersection of Co...

Brian Hoffstein

Contributing Writer

Jeffrey Israel

Jeffrey Israel has taught religion and political phi...

Francis Tapon

Author, Harvard MBA, and World Traveler

Robert Hormats

Vice Chairman of Kissinger Associates Inc.

Steven Mazie

Associate Professor of Political Studies, Bard High ...

Tim Sanders

Bestselling Author, Technology Pioneer, Expert on Co...

Parag Khanna

Leading Geo-Strategist & Author

Peter Thiel

Former CEO and Co-founder of PayPal; Technology Entr...

Spencer Wells

Geneticist, Anthropologist, Author, Entrepreneur, Ad...

Richard Dowden

Director, Royal African Society

Dale Jamieson

Professor, New York University

Marina Adshade

Author of "Dollars and Sex: How Economics Influences...

Dr. Anthony Fauci

Director, National Institute of Allergy and Infectio...
More like Andrew