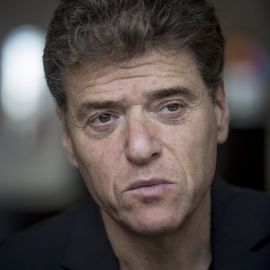 Named as one of the "100 Most Connected Men" by GQ magazine, Andrew Keen is amongst the world's best known and controversial commentators on the digital revolution. He has written five books including the best-selling "Cult of the Amateur," "The Internet Is Not The Answer" and "How To Fix The Future." He directed and wrote the 2020 movie How To Fix Democracy and is the host of the popular podcast show "Keen On Capitalism." Current interests include the future of work, the future of the earth and the future of humanity
Keen was educated at London University where he earned a Bachelor's degree in Modern History, at the University of Sarajevo where he was a British Council Scholar, and at the University of California at Berkeley where he received a Master's degree in Political Science.
Videos
---
Speech Topics
---
The Impact of Social Media on Individual Liberty
Social networks like Facebook, Twitter and LinkedIn are dramatically changing the world. But what's the real impact of this revolution on individuals and society? Arguing that social media is dividing, diminishing and disorienting us, Andrew Keen reveals the real costs of living in an "always-on" world in which a society of digital narcissists are perpetually broadcasting ourselves to each other. These costs include, he argues, the loss of our precious right to privacy which we've built up over the last 200 years. A right which lies at the very foundation of modern individual freedom.
Does the Internet Benefit Creativity?
Andrew Keen examines the question of whether or not the Internet has been good for professional writers, musicians, film makers and journalists. Exploring the real "costs" of an economy in which online content is increasingly free, he argues that the 21st century creative industry (and process) will only survive if we reestablish the monetary value of content. Critically examining the new business models of Apple, Google, Spotify, Netflix, Facebook, Twitter and many other leading online businesses, Keen offers expert insight, practical encouragement, and some warnings to those of us who, for better or worse, are now selling our creative content on the Internet.
How Silicon Valley Has Changed—and Will Change—the World
In this presentation, Andrew Keen argues that Silicon Valley has changed the world more than any other place over the past 50 years. Working off of Joseph Schumpeter's notion of "creative destruction," he reveals the cultural foundations of Silicon Valley's obsession with innovation and its both creative and destructive impact on our economy. In particular, he examines the consequences of Silicon Valley's obsession with efficiency and the consequences of this on unemployment and our work lives. Neither a Luddite nor a techno-utopian, Keen offers a carefully calibrated and deeply historical take on where today's digital revolution might be taking us.
Books
---
Related Speakers View all
---
Sir Richard Branson

Businessman, Founder of Virgin Group

Ray Kurzweil

Chairman of Kurzweil Technologies; Inventor; Futurist

Jack Shaw

Corporate Financial Executive, Software Company Exec...

Nicholas Carr

Writer on the Intersection of Technology, Economics ...

Clay Shirky

Expert on New Technology & Social Media, & How They ...

R "Ray" Wang

Founder, Chairman & Principal Analyst at Constellati...

Dr. Michio Kaku

World-Renowned Futurist & Theoretical Physicist

Alex Salkever

Futurist, Author of "The Driver in the Driverless Ca...

Guy Kawasaki

Chief Evangelist of Canva & Executive Fellow of the ...

Michael Rogers

MSNBC's 'The Practical Futurist' & Technology Expert

Jeremy Rifkin

Leading Global Technologist, Futurist, Authority on ...

Peter Diamandis

Founder & Executive Chairman of the XPRIZE Foundatio...

Peter Thiel

Former CEO and Co-founder of PayPal; Technology Entr...

Graham Hill

Founder of Life Edited & TreeHugger.com

Rick Smolan

Photographer & Big Data Enthusiast

Parag Khanna

Leading Geo-Strategist & Author

Kai-Fu Lee

Founder, Chairman & CEO of Sinovation Ventures

Scott Galloway

Founder of L2 & Clinical Professor of Marketing at t...

Professor Richard Dawkins

English Ethologist, Evolutionary Biologist, Charles ...

Jeff Jarvis

Leader in the Development of Online News & Blogging;...
More like Andrew