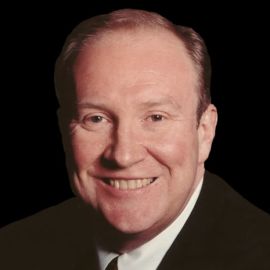 Andrew C. McCarthy
Senior Fellow at the National Review Institute; Senior Fellow at the Foundation for Defense of Democracies
Andrew C. McCarthy III is a columnist for National Review. He served as an Assistant United States Attorney for the Southern District of New York. A Republican, he is most notable for leading the 1995 terrorism prosecution against Sheik Omar Abdel Rahman and eleven others. The defendants were convicted of the 1993 World Trade Center bombing and planning a series of attacks against New York City landmarks. He also contributed to the prosecutions of terrorists who bombed US embassies in Kenya and Tanzania. He resigned from the Justice Department in 2003.
He is currently a senior fellow at the Foundation for Defense of Democracies, serving as the director of the FDD's Center for Law and Counterterrorism. He has served as an attorney for Rudy Giuliani, and is also a conservative opinion columnist who writes for National Review and Commentary.
Videos
---
Related Speakers View all
---
Patrick Buchanan

Former Communications Assistant for the President, C...

Michael Barone

Senior Political Analyst, Washington Examiner

Heather Mac Donald

Fellow at the Manhattan Institute & Contributing edi...

Ben Shapiro

Conservative Political Commentator & Radio Talk Show...

Ramesh Ponnuru

Senior Editor for National Review, American Conserva...

Daniel Pipes

Foreign Policy Expert & President of The Middle East...

John Fund

National Affairs Columnist for National Review Maga...

Kellyanne Conway

Former Counselor to the 45th U.S. President Donald T...

Pat Buchanan

Editor, The American Conservative & Panelist on "The...

Jason Mattera

Emmy-Nominated Journalist, Conservative Activist & A...

Dan Flynn

Author, Columnist, & Senior Editor of "The American ...

Rep. Tom Tancredo

Member of the U.S. House of Representatives from Col...

Robert Rector

SENIOR RESEARCH FELLOW, HERITAGE FOUNDATION

Steven Malanga

Senior Fellow, Manhattan Institute; Senior Editor, C...

Sara Carter

reporter of Inland Valley Daily Bulletin

Kathleen Parker

Columnist for The Washington Post; Former Co-Host of...

Jared Bernstein

Member of Biden's Council of Economic Advisers; Reno...

Cal Thomas

Syndicated Columnist, Pundit, Author & Radio Comment...

Ben Stein

Political Economist, Commentator, Author & Actor

Oliver North

Combat-Decorated Marine, Best-Selling Author & Forme...
More like Andrew