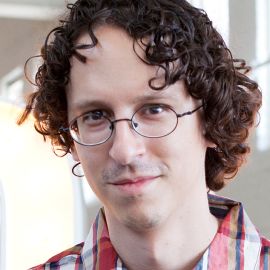 Andy Baio
Co-Founder of the XOXO Festival, Founder of Upcoming.org, a Former CTO of Kickstarter and Author of the Waxy.org Blog
Andy Baio (born April 22, 1977) is an American technologist and blogger. He is the founder of Upcoming.org, a former CTO of Kickstarter, and author of the Waxy.org blog.
In 2003, Baio launched Upcoming.org, a collaborative event calendar. The site was acquired by Yahoo for an undisclosed sum in 2005 and Baio joined the company as the site's Technical Director. In 2007, Baio announced his departure from Yahoo. In September 2008, Baio joined the board of directors of Kickstarter, a "crowdfunding" website that helps people with project ideas (often artistic works) to connect with an audience of potential funders. Baio later joined the staff as Chief Technical Officer in July 2009, stepping down in November 2010 to join Expert Labs.
Baio writes mostly about technology and media on Waxy.org, and publishes a sideblog known as Waxy Links. Baio often takes a stand against censorship on the Internet by hosting or linking to controversial content which some parties wish to suppress. This ranges from unauthorized mashups and other artwork where parody or fair-use claims are disputed to newsworthy video, such as that of 2008 United States vice-presidential candidate Sarah Palin competing in a beauty pageant. Baio was one of the first bloggers to draw attention to the Star Wars Kid video, which depicted a teenager clumsily emulating martial arts moves for the camera. He was the first to identify the youth and interview him. In response to the negative attention the boy received, Baio later organized a fundraiser for him, raising $4,300 in a week. When the parody cartoon House of Cosbys was taken down from its original site due to a cease and desist letter from Bill Cosby's attorney, Baio placed the videos on his own website. Baio later received a similar cease and desist letter but refused to comply, citing fair use and decrying what he termed "a special kind of discrimination against amateur creators on the Internet", since Cosby had often been parodied in the mainstream media. In 2009, he produced Kind of Bloop, a chiptune tribute album commemorating to the 50th anniversary of Miles Davis' Kind of Blue. The album's cover was a pixel art version of the original album's cover, which consisted of a photograph taken by Jay Maisel. Attorneys representing Maisel demanded damages and that the resulting image be removed from the chiptune album, resulting in a settlement of $32,500 from Andy Baio. Baio has also written for Wired magazine and The New York Times, and was a staffer on R. U. Sirius' online magazine GettingIt.com.
Videos
---