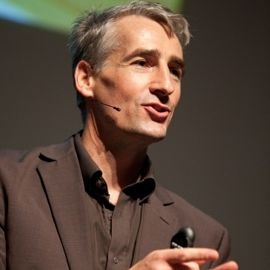 Andy Habermacher is fascinated in communication and human behavior and he focuses on brain science in business - he is recognized as a leading expert in NeuroLeadership. His latest book, "The Dr Fox Effect - Image Over Content," focuses on how we process the image of people rather than the content and the unconscious processes in the mind that are influencing our decisions. Habermacher passionately believes that neuroscience will help us become more human through understanding the drives of human nature better. Using brain science gives visual clarity and concrete format to make understanding human behavior easier. He loves applying his knowledge to businesses and providing companies with strategies that can be implemented right away.
Related Speakers View all
---
Joseph Covelle

Speaking From the Heart To Help Change Minds

Candace Reese

The CEO Pundit: Empowerment Speaker, Inspirational C...

Amy Magyar (Coach)

The Benefits of a Coach Without the Annoying Whistle.

Roberto Alas

Reaching and identifying the potential in every sing...

Lisa Van Allen

Executive Coach and Spiritual Director to Mission-Dr...

Liz Nead

Executive Business & Life Coach

Mac Curfman

...because the work is hard!

Ann Marie Mac Donald

Certified World Class Professional Speaking Coach, C...

Dr. Lisa Van Allen

The Biz Doctor helping transformational leaders find...

Christi Tasker

Social Media Branding Queen and Keynote Speaker

Caspar Berry

Renowned Expert on Risk-Taking and Decision-Making

Stephen Koch

Professional Speaker, Climber, Snowboarder & Mountai...

Debbie Lundberg

Author, Keynote Speaker, Facilitator, Corporate Trai...

Mo Stegall

Global Brand Ambassador, Motivational Speaker, Bests...

Grant D. Fairley

Inspirational Speaker and Teacher, Executive Coach &...

Jean Bailey Robor

Jean Bailey Robor, award-winning author and inspirat...

Cathy Sexton - The Productivity Expert

Ignite Your Performance & Accelerate Your Results

Sherri Henley

Author, Expert in Speaking, Social Media Intelligenc...

Tony Burgess

Helping people to get out of their own way so they c...

Marty Stratton

Entrepreneur Spirited Speaker; Driven for Your Success!
More like Andy