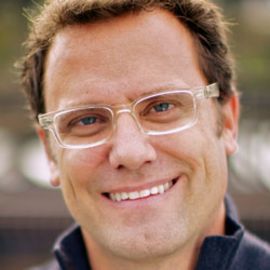 Andy Stefanovich
Chief Curator and Provocateur at Prophet & Author of Look at More: A Proven Approach to Innovation, Growth and Change
As chief curator and provocateur at Prophet, Andy Stefanovich has earned a reputation as one of the most disruptive and effective advisors in business. He spent the past 20 years helping companies like GE, General Mills, Procter & Gamble, The United States Olympic Committee and the Coca-Cola Company drive innovation from the inside out, enriching their people and driving marketplace growth. Stefanovich's true passion lies in guiding clients through the powerful evolution from inspiration to creativity to innovation. He teaches practical skills, leadership behaviors, and specific processes for developing and implementing ideas at work.
Stefanovich is frequently featured on CNBC as a nationally recognized innovation thought leader and acts as visiting a professor at many leading universities, including Dartmouth, University of Michigan, Duke, University of Richmond and the Wharton School of Leadership. He is a published author and is frequently called upon to share his insights with the media. His book on innovation, Look at More, is an Inc. bestseller and was cited by Advertising Age as being among the "Ten Marketing Books You Should Have Read" in 2011.
In 1990, Stefanovich co-founded Play, a creativity and innovation company, that changed the way business does business. While there, he helped many leading companies find ways to inspire and equip their people to create sustainable innovation. Prophet and Play joined forces in December 2008.
Stefanovich strongly believes in supporting community through education, non-profit and civic initiatives including the HYDE school, HomeAgain and ChildSavers. Stefanovich is on the Board of Directors of KaBOOM!, a non-profit organization focused on giving every child in America a great place to play within walking distance. Stefanovich holds a B.S. from Miami University of Ohio.
Videos
---
Speech Topics
---
The Innovation Discipline: The Inside Out
Why does real innovation elude so many companies? Because the focus is at the macro level exclusively: assets, processes, and outputs. Instead, organizations need a more holistic focus that includes inspiring its people to unleash inspiration at the individual micro level. This workshop helps participants engage, reflect, and collaborate as the learn how to drive innovation throughout the organization -- from the inside out.
Andy Stefanovich, Author of Look at More, details his 5M discipline to innovation. A discipline that addresses the macro level innovation mood of the organization and the micro level creative mindset of the people.
Through provocative anecdotes and road tested case studies with Fortune 50 companies, Andy shares how the 5Ms can act as a diagnostic tool and road map for changing individuals, empowering teams, and transforming organizations. A discipline that goes beyond a quick burst of excitement to sustain innovation - organizationally, culturally, and personally.
Andy will:
Illustrate, through engaging client success stories, how expanding your companys innovation focus to include your people helps drive bottom line growth and internal engagement;
Detail the 5Ms and the comprehensive organizational and how to create the organization mood for innovation and leverage the individual mindset for innovation;
Mood is the organization context for innovation

Mindset is the individual capacity for innovation

Mechanisms are the tools, processes, and approaches to facilitate innovation

Measurements are the traditional and non-traditional metrics for innovation

Momentum is the active championing of innovation for long term sustainability
Teach you how to harness inspiration by thinking differently yourself and creating an organizational culture that encourages others to do the same.
The Museum Mentality: Focusing Your Organization on Inspiration and Innovation
Why do we give ourselves permission to be inspired at a museum, but not at work? Because we expect it at the museum. To drive innovation and growth in business we need to give that same permission, and create that same expectation, for the people in our organizations. The permission to inspire and be inspired.
Through a unique storytelling approach, Prophets Andy Stefanovich creates the museum mentality - combining proven client based examples with real-world observations. Focusing on the front end of innovation -- and giving your team the permission to inspire themselves and one another with a museum mentality -- is the most effective way to positively impact innovation.
Andy will also teach them how to become a "curator and provocateur" within their organization, including techniques to inspire innovation by delight, by design, and on demand to systemically drive business innovations.
Participants will:
Learn how to become "curators" for innovation, editing the excellence of the world and bringing it to their organization to inspire innovation.
Demonstrate the three museum mentality techniques to inspire your organization by delight, by design, and on demand.
The Inspiration Continuum: 24 Hours of Innovation
Your desk is a terrible place to get inspired. But the reality is, its where you spend your work day -- and where youre expected to be your most innovative. With the right mindset, you can create your own source for inspiration - anywhere and anytime.
Using his principles of "look at more stuff and think about it harder," Andy Stefanovich will teach you how to build your inspiratory - a source, and process, for inspiring innovation. During this visually engaging presentation, Andy will detail the inspiration continuum, including direct, tangential, and abstract sources of inspiration. He will teach participants how to "look at more stuff" and the discipline of drawing insights from observations by using visual examples he has curated in the last 72 (24) hours.
In this highly engaging presentation, Stefanovich:
Teaches how to inspire your innovation through direct, tangential, and abstract sources of innovation
Illustrates, with real-life examples curated over the previous 24 hours, how to effectively drive innovation from direct, tangential, and abstract sources of inspiration
Related Speakers View all
---
Erik Wahl

Internationally Recognized Graffiti Artist, Entrepre...

Paul Orfalea

Founder of Kinko's, Philanthropist-Chairman of the O...

Frans Johansson

Innovation Expert & Author of "The Medici Effect"

Liz Wiseman

President of The Wiseman Group & Bestselling Author ...

John Wood

Founder & Board Co-Chair of Room to Read; Former Mic...

Watts Wacker

Futurist & Commentator

Richard Florida

Leading Urbanist, Economist & Author of "The Rise of...

Garrison Wynn

Comedian & Motivational Business Expert

Afterburner

US Fighter Pilots & Team-Building Experts

John Sculley

Vice-Chairman of MDLIVE, Former CEO of Apple Compute...

Tom Morris

American Philosopher; Corporate Advisor; Best-Sellin...

Dr. Jackie Freiberg

Corporate Culture & Leadership Strategist, Best-Sell...

Linda Ellerbee

Award-Winning Journalist & Television Producer; Brea...

Jon Bergmann

Pioneer of the Flipped Class Movement & Bestselling ...

Shawn Achor

Harvard Professor, Researcher, Positive Psychology E...

Behnam Tabrizi

Consulting Professor at Stanford University's Depart...

Clay Shirky

Expert on New Technology & Social Media, & How They ...

Peter Guber

Executive, Entrepreneur & #1 NYT Bestselling Author,...

Jackson Katz

Anti-Gender Violence Activist, Author

Tony Wagner

Senior Research Fellow at the Learning Policy Institute
More like Andy