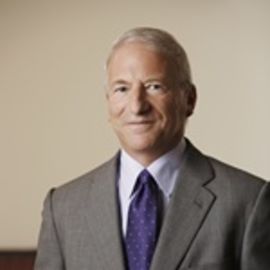 Andy Stern
Andy Stern is the president emeritus of the 2.2 million-member Service Employees International Union (SEIU), the fastest-growing union in North America.
Andy Stern is the president emeritus of the 2.2 million-member Service Employees International Union (SEIU), the fastest-growing union in North America. One of the most connected Democrats in Washington, Stern and SEIU were widely credited for helping elect Barack Obama in 2008. In fact, Stern has visited the White House more frequently than any other single person during the Obama Administration. During his fourteen years atop SEIU, Stern turned it into a potent political force, and he was named one of the 50 Most Powerful People in DC. He has been profiled in a cover story of The New York Times Sunday Magazine, as well as on 60 Minutes, Charlie Rose, and Bill Moyers, and in Washingtonian Magazine, McKinsey Associate, Fortune, the Economist, Business Week, Modern Healthcare, and the Washington Post . In September 2009 he was Chris Wallace's "Power Player of the Week" on Fox News. A frequent guest on The Glenn Beck Show, some have referred to Stern as "Glenn Beck's worst nightmare." A speaker exclusively represented by Leading Authorities, Andy Stern addresses audiences about politics and issues such as fiscal policy, entitlements, immigration, healthcare, and the future of the labor movement. Smart, savvy, and articulate, Stern believes in finding common ground with his opponents and in being able to agree without being disagreeable.
As both a labor leader and an activist, Stern is a leading voice and a prominent advocate for people who work. Called a "courageous, visionary leader who charted a bold new course for American unionism," Stern's practical solutions to achieve economic opportunity and justice for all workers have earned the respect of workers, business leaders, and policy makers on both sides of the aisle. He is the author of A Country That Works, which outlines a practical, cooperative approach to promote economic growth in America. In early 2010, Stern was appointed by President Obama to the National Commission on Fiscal Responsibility and Reform, along with such luminaries as Alan Simpson, Alice Rivlin, Anne Fudge, and Erskine Bowles.
Under his tenure as president, SEIU bucked the trend and through its signature national and global organizing campaigns Justice for Janitors (janitors), There Is No Place Like Home (home care workers), Kids First (child care) and Sodexo (food service workers), grew by more than 1.2 million workers, turning traditionally underpaid service work into jobs that can help support a family and lift up a community. During the health care debate, Stern and the SEIU were some of the most influential players.  He was credited with playing a major role in the bill's ultimate passage.
Stern began working as a social service worker and member of SEIU Local 668 in 1973. He served as organizing director for SEIU before his landmark election as president in 1996. After launching a national debate about the fundamental change needed to unite the 9 out of 10 American workers who have no organization at work, Stern led SEIU out of the AFL-CIO and transformed the national labor landscape by founding the Change to Win labor federation with six other major unions in 2005.
Videos
---