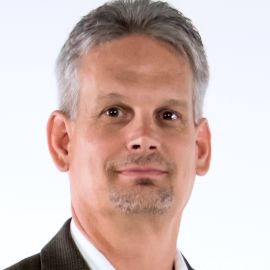 Andy Worshek served as Sonar Chief and Chief of the Boat for the USS Santa Fe with David Marquet. He is an expert in developing leaders and is prominently mentioned in David's award-winning book, Turn the Ship Around! For nearly a decade after serving with David on USS Santa Fe, Andy took the leader-leader approach to three more Navy commands and enjoyed the benefits of developing leaders.
His unique perspective as one who served in both the follower and leader role with David exposes both the challenges of implementing intent-based leadership™ from all levels, as well as the incredible results of practicing these principles.
Since his retirement from the Navy, Andy served as the Director of Human Resources and Personnel Development for McGee, Hearne & Paiz, LLP, the premier accounting firm in Wyoming. Andy is now a speaker and facilitator with Turn the Ship Around!
Videos
---
Speech Topics
---
Create Leaders At Every Level
Why are only a few workplaces completely fulfilling to work in while many others aren't? Why do only a few organizations unleash the power and potential of the people working there?
Imagine instead, workplaces where people eagerly come to work with a sense of purpose and go home with a sense of fulfillment.
Leaders in these workplaces do one fundamental thing different than other organizations. Instead of treating people like followers who need to be told what to do, they treat everyone like leaders. They trust their teams with the authority to make decisions and ensure they have the tools to succeed.
In this fast-paced, interactive and inspiring keynote, Andy Worshek explains how to build leaders at every level based upon his experience on a nuclear submarine and in business. Part story-telling, part leadership transformation, part actionable take-aways, this talk leaves audiences reinvigorated to lead from where they are and turn those around them into leaders as well. As a result, audiences will be on their way to unleashing the talent around them.
Turn the Ship Around! Creating Leaders at Every Level™
In this keynote, Andy Worshek shares the origins and principles of Intent-Based Leadership®. Andy was critical to implementing Intent-Based Leadership® on the USS Santa Fe with captain David Marquet. He shares his unique perspective as one who lived the story, influencing up and down the chain of command. He reveals how this submarine went from the worst submarine to the best submarine, achieving the highest retention and operational standings in the U.S. Navy.
This interactive keynote requires audience participation. Andy will take the audience inside a U.S. Navy fast attack submarine, using photographs and stories from the USS Santa Fe, to describe the challenges and frustrations of leading from the middle of the organization and the successes the team experienced .
While interacting with the audience, Andy covers the principles of this leadership movement by contrasting bosses and leaders. He will focus on these basic principles:
Giving control and creating leaders
Creating an environment that releases greatness
Getting people to think instead of just do
Using language that inspires collaboration
Executive Leadership Workshop:
The Executive Workshop is for organizations that would like to go more deeply into Intent-Based Leadership with an eye toward changing behaviors. This 5 hour session includes a discussion of the origin story of Intent-Based Leadership Turn the Ship Around! This interactive workshop has small groups working together to transition the story of the USS Santa Fe into your story of how you can transition into a highly engaged and motivated team. For online events we extend the learning by having 3 two-hour sessions spread over 3 week which will allow for reflection and practice so you can bring questions and success stories to the next session.
Related Speakers View all
---
J.R. Martinez

Actor, Best-Selling Author, Motivational Speaker, Ad...

Doug Lipp

Former Head of Training at Walt Disney University & ...

Adrian Gostick

Founder of The Culture Works & Bestselling Author of...

Eduardo Briceño

Growth Mindset and Improvement Expert; Co-Founder of...

Libby Gill

Leadership Expert, Executive Coach & Award-Winning A...

Scott O'Grady

Former U.S. Air Force Captain, Fighter Pilot Who Sur...

Brian Holloway

Five-Time NFL All-Pro; Motivation & Team Building Ex...

Bill Capodagli

Author of "Innovate the Pixar Way: Business Lessons ...

Ed Hiner

Retired U.S. Navy SEAL, Best-Selling Author & Leader...

Mark DeVolder

Change Management & Employee Engagement Expert

Story Musgrave, M.D.

Retired NASA Astronaut; Physician & Professor at Art...

Mike Abrashoff

Former Commander of USS Benfold & Author of "It's Yo...

Pat Williams

Motivational Speaker & Sports Executive; Senior Vice...

Haydn Shaw

Expert in Generational and Cross-functional Roles, C...

Dr. Jackie Freiberg

Corporate Culture & Leadership Strategist, Best-Sell...

Jason Young

Former Senior-Level Manager at Southwest Airlines & ...

Vince Poscente

Former Olympic Speed Skier, Best-Selling Author, Lea...

David Marquet

Leadership Expert, Former Submarine Commander & Auth...

Jim Morris

Known for His Brief MLB Career & Subject of Disney's...

Stedman Graham

CEO of S. Graham & Associates, Leadership Developmen...
More like Andy