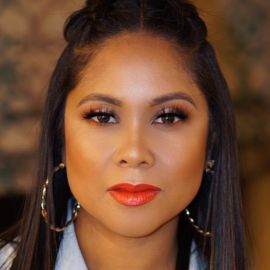 Angela Yee
Radio Personality on the Nationally Syndicated Morning Show "The Breakfast Club" Along With DJ Envy and Charlamagne Tha God
Angela Yee was born and raised in Brooklyn, where she spent the majority of her free time writing short, fictional stories and reading every novel she could get her hands on.  When Angela graduated from Poly Prep in Brooklyn, she headed to Wesleyan University where she graduated with a Bachelor of Arts in English.  
After college, she utilized the relationships she secured through various internships at MTV, TVT Records and Wu-Tang Management to obtain employment as the assistant to the CEO of Wu-Tang Corporation.  Angela gained valuable experience dealing with multiple music labels, artists, lawyers, accountants, and organizing special events.   
Angela realized she had a knack for marketing, and spent the next five years working with internet startups, Nile Rodgers' record distribution label, clothing brands, and launching Eminem's clothing line Shady Limited.  Yee decided her ideal position would be merging her love of marketing with her love of music, and that was when her industry relationships and stellar work reputation placed her in a position to get hired at Sirius Satellite Radio.  While looking for job opportunities online, she saw the company was hiring in their marketing department and immediately called Paul Rosenberg, the head of Shady Records.  She knew they were launching Shade 45 at Sirius and he would be able to at least get her an interview.
  Never the type of person to wait for an opportunity, she soon pitched her own weekly nighttime show called "Lip Service," which became an instant success.  The show was the only female-hosted program on Shade 45 and allowed guests to engage in intimate conversations that were a refreshing contrast from the typical interviews with a promotional agenda.  Soon enough, Angela took over the morning show as the main host and created "The Morning After with Angela Yee."   Angela continued to grind tirelessly at Shade 45, providing a platform for unsigned artists with her segment "Don't Quit Your Day Job," where artists like Drake, Machine Gun Kelly, and Big Krit were showcased before signing to major labels.  She conducted standout interviews with Eminem, Nicki Minaj, Chris Rock, Birdman, 50 Cent, TI, and Wiz Khalifa, among many others.  Her talent and work ethic did not go unnoticed - she was the only Sirius XM personality mentioned in the Power 30 issue of "The Source" magazine in 2009.  Several radio stations in different markets began contacting Angela and she soon decided to take a risk and leave her home of six years at Shade 45 for the station that was the underdog in radio's number one market: New York City's Power 105.1.
  The Breakfast Club was formed in December 2010 with DJ Envy, Angela, and Charlamagne Tha God.  The three personalities each brought something different to the table: DJ Envy was well-known for his music knowledge and club popularity, Angela was known for her inquisitive interviews that probed deeper than the public's knowledge and her quick wit, and Charlamagne was known for his harsh, yet honest critique of the culture.  After only two years, The Breakfast Club was launched into national syndication with Premiere Networks. For the past three years, the show has been the number one radio program in "The Source" Power 30 issue, and in 2014 the New York State Broadcasters Association honored the show with the "Outstanding On-Air Broadcast Personality or Team" award. Currently, the show is syndicated in more than 70 markets weekday mornings and more than 90 markets on the weekend, where listeners can hear Angela Yee's "Rumor Report," her advice segment "Ask Yee," and current events with "Front Page News."
True to her personality, Angela has also continued to expand her brand with her popular podcast "Angela Yee's Lip Service" and freelance writing with Vibe Magazine, YRB Magazine, and her own website www.teamyee.tv.  She has received a WEEN Mission Award, the "Shirley Chisholm Woman of Distinction" Award, and donates her time and efforts to speaking at schools and on educational panels, working with Coats for Kids, Dress for Success, Makeover Your MS, Children Making Strides Against Pediatric Cancer, The Bowery Mission, and various other charitable organizations.
Videos
---