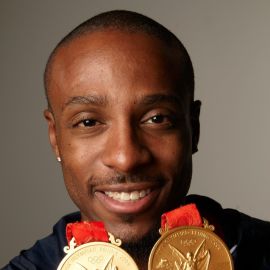 Angelo F. Taylor is a track and field athlete and Olympic gold medalist. He is the winner of 400-meter hurdles at the 2000 and 2008 Summer Olympics. His personal record for the hurdles event is 47.25 seconds.
Taylor is the #8 hurdle performer of all time and the #21 performer for the 400-meter dash of all time. He won the bronze medal in the 400 m at the 2007 World Championships in Athletics.
He is a three-time world champion in the 4×400 m relay with the United States (2007, 2009 and 2011), and was also a relay gold medalist at the 2008 Beijing Olympics and silver medalist at the 2012 London Olympics.
Taylor was captain of the USA men's track Olympic squad in his fourth Olympics, the 2012 London Summer Olympics.
Taylor currently resides in Atlanta, Georgia with wife Lynnita and is father to twin boys Xzaviah and Isaiah. He is the founder and head track coach at the East Atlanta Track Club.
Videos
---