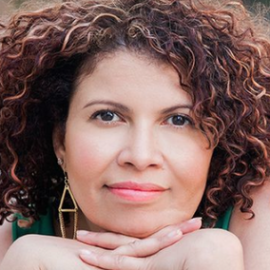 Anjanette Delgado is an award-winning novelist, speaker, and journalist who has written or produced for media outlets such as NBC, CNN, NPR, Univision, HBO and Vogue Magazine's Latam and Mexico divisions, and for Telemundo, among others. She's covered presidential coups, elections, the Olympics, both Iraq wars and the 9/11 terrorist attacks.
Early in her career, Delgado became fascinated with heartbreak, the different ways in which it occurs, and the consequences it brings. Her human-interest television series "Madres en la Lejanía" won an Emmy award for its depiction of Latina mothers working as undocumented nannies in the United States, while living with the consequences of having left their own children behind in search of a better life.
Her original screenplay for HBO, "Good in Bed," was a thesis on the life moments in which sex, love, identity, self, and society collide.
Her first novel, "The Heartbreak Pill," about a modern-day Latina enmeshed in a battle between her brain and her heart, won first prize at the Latino International Book Award for Best Romance in English, was a Triple Crown Winner for Best Romance Book in Spanish in 2010, and first prize for Best Romance in Latino Literacy's "Books into Movies" competition in 2011.
"The Clairvoyant of Calle Ocho" is Delgado's latest novel. Set in vibrant Little Havana, it tells the story of Mariela Esteves, a woman whose choice to renounce her true calling results in two failed marriages, a brush with murder, and a lot of heartbreak. It was released in the Fall of 2014. Both novels have also been optioned for film and television.
Delgado has an MFA in Creative Writing from Florida International University and was admitted as a contributor to the prestigious Bread Loaf Writing Conference in 2013 and in the upcoming 2014 session. She teaches writing at the Miami International Book Fair's Florida Literacy Arts Center.
Videos
---
Speech Topics
---
Establishing a Digital Presence for Small Businesses
How to Freelance
Every day, millions of people just like you are finding freedom from an unsatisfying career, increased revenue and satisfaction from their talents, and the flexibility to work from home and arrange life according to their values and dreams.
This course teaches you all the basics so you can do the same. From tax and legal issues, to negotiating time and space, what to charge, how to establish a presence on the web and in the marketplace, and how to create a pipeline of projects before you jump ship.
Full Day Workshop
Telling Stories to Get What You Want in Everyday Life
The Clairvoyant of Calle Ocho
For readers and aspiring novelists, this is a two-hour talk on the upcoming novel about a woman who relearned how to see and saved herself from a murder conviction for doing so. Upcoming from TBA publishing and Santillana USA.
Duration: 1 hour
The Heartbreak Pill
For fans of Anjanette Delgado's breakout novel, The Heartbreak Pill. Author will discuss the theme of heartbreak, share real-life tips from her research, and discuss the publishing lessons of first books learned since the novel's release that every author may apply to his or her first book, both from her perspective as an author, and as a former acquisitions editor for a major publisher.
Duration: 1 hour
Social Media for People With a Life
Who has time to post on every social media platform, research "engaging content," and upload photos and videos, never mind to answer user comments, while tweeting and retweeting for your book, organization, or business.
The truth is that we all do and we all can. The secret is strategy. This course will teach you how to create a doable social media strategy for your small business. One that you will be able to maintain in very little time. The result will be a community of loyal customers, true fans, and friends (instead of circumstantial, inactive, "likers" and followers), and more time for your business.
Duration: 2 hours
Finish Your Novel the TV Way
The next time you're wondering how you'll ever get through the writing of a novel, think about TV producers and writers of original series and even non-fiction shows. They pretty much have to see the whole thing in their heads, and process it all into a readable "series bible" before they can get a green light. Learn to think like the TV executive who sees it, feels it and believes in it, and get your novel written!
Books
---
Related Speakers View all
---
Rosa Clemente

Community Organizer, Journalist, Political Activist,...

Cristina Jiménez Moreta

Ecuadoran Immigration Activist; Executive Director &...

Dolores Huerta

Co-Founder of the United Farm Workers of America; Fi...

Erika Andiola

Chief Advocacy Officer of RAICES & DREAMer

J.R. Martinez

Actor, Best-Selling Author, Motivational Speaker, Ad...

Shayla Rivera

Aerospace Engineer & Former NASA Rocket Scientist

Monica Martinez

Author, Education Consultant, Strategist & Former Ap...

Maria Echaveste

President & CEO of the Opportunity Institute, Former...

Deborah S. Esquenazi

Documentary Filmmaker; Known for Peabody Award-Winni...

Eduardo Briceño

Growth Mindset and Improvement Expert; Co-Founder of...

Esmeralda Santiago

Award-Winning Author & Documentary Filmmaker

Lolita Taub

Latina Tech Venture Capitalist; Co-Founder & General...

Lilia Luciano

Award-Winning Investigative Journalist & Filmmaker

Nikki Giovanni

Poet, Educator & Best-Selling Author

Christian Navarro

Actor, Best Known for "13 Reasons Why"

Anna Escobedo Cabral

Former Treasurer of the United States & Partner at T...

Linda Alvarado

CEO of Alvarado Construction & National Women's Hall...

Quiara Hudes

Pulitzer Prize-Winning Playwright Known for "In The ...

Felipe Luciano

Poet, Community Activist, Journalist, Media Personal...

Andrea Navedo

Actress Known for Her Role as Xiomara "Xo" Villanuev...
More like Anjanette