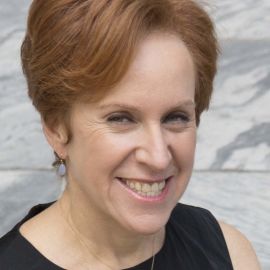 Ann Temkin
Chief Curator of Painting and Sculpture at the Museum of Modern Art
Ann Temkin is an art curator and the Marie-Josée and Henry Kravis Chief Curator of Painting and Sculpture at the Museum of Modern Art in New York.
After completing her doctorate Temkin became an assistant curator in the Department of Painting and Sculpture at MoMA in 1984. In 1987 she began working at the Philadelphia Museum of Art under director Anne d'Harnoncourt. After spending a year as Acting Curator, Ann was named the Muriel and Philip Berman Curator of Modern and Contemporary Art in 1990. There, she worked on exhibitions including: Barnett Newman (2002), Alice Neel (2001), Constantin Brancusi (1995), and Thinking Is Form: The Drawings of Joseph Beuys (1994). She commissioned new work by artists like Sherrie Levine, Rirkrit Tiravanija and Richard Hamilton for her "Museum Studies" series, which she herself created. Temkin was also responsible for the renovation to the modern and contemporary galleries at the Philadelphia Museum of Art.
In 2003, after working for 13 years at the Philadelphia Museum of Art, Ann Temkin returned to working in the painting and sculpture department at MoMA. Temkin was named the Marie Josée and Henry Kravis Chief Curator of Painting and Sculpture in 2008. She was the first woman to hold this position, considered the most prestigious in the field of modern art.
As the Chief Curator of Painting and Sculpture she was responsible for curating or co-curating exhibitions including: Picasso Sculpture (2015); Robert Gober: The Heart Is Not a Metaphor (2014), the artist's first American retrospective; Jasper Johns: Regrets (2014); Ileana Sonnabend: Ambassador for the New (2013); Ellsworth Kelly: Chatham Series (2013); Claes Oldenburg: The Street and The Store and Mouse Museum/Ray Gun Wing (2013); Abstract Expressionist New York (2010); Gabriel Orozco (2009); and Color Chart: Reinventing Color, 1950 to Today (2008).
Videos
---
Books
---
News
---
A Starry Night Crowded With Selfies - The New York Times
The crowds were ceaseless all summer, as they are much of the year — bobbing, weaving, snapping away, denying quiet contemplation. They puzzle no less an art lover than Ann Temkin, the chief curator of painting and sculpture, who has watched the "crazy magnetism" of the painting and her beloved Vincent grow ever ...