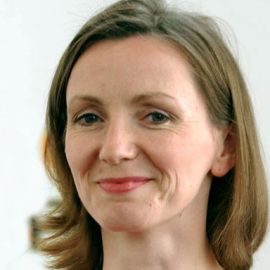 Anna Burns is a Northern Irish writer who won the Man Booker Prize for Fiction in 2018, the first author from Northern Ireland to do so.
Her first novel, No Bones, is an account of a girl's life growing up in Belfast during the Troubles. No Bones won the 2001 Winifred Holtby Memorial Prize presented by the Royal Society of Literature for the best regional novel of the year in the United Kingdom and Ireland.
Her second novel, Little Constructions, was published in 2007.It is a darkly comic and ironic tale centered on a woman from a tightly-knit family of criminals on a mission of retribution.
In 2018, Burns won the Man Booker Prize for her novel Milkman . Milkman is an experimental novel in which the narrator is an unnamed 18 year old girl known as "middle sister", who is being pursued by a much older paramilitary figure, the milkman.
Videos
---