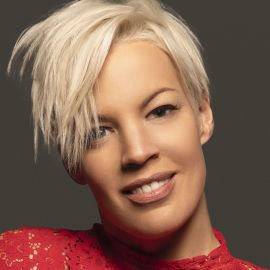 Anne M. Mahlum is a female entrepreneur who knows how to create and build with purpose…and she knows how to do it quickly.
She is currently the Founder, Owner and CEO of a fast-growing boutique fitness company she founded in DC in 2013 called [solidcore] In just 7 years, Anne has grown her company to more than 70 locations across 19 different states (entirely corporately owned) with more than 100,000 clients, including Michelle Obama. Anne has raised more than $70M in private equity and most recently took an investment from VMG in February of 2021. She has received notable media attention for her success as a woman entrepreneur and business acumen, including features in The Washington Post, Bloomberg, The Wall Street Journal, The Washington Business Journal and Runner's World.
Prior to [solidcore], Anne was the CEO of Back on My Feet (BoMF), a non-profit organization she founded in Philadelphia in 2007 that uses the power of running to change the way those experiencing homelessness see themselves so they can make real change in their lives, which includes employment and independent housing. In addition to Philadelphia, the organization now has chapters in Baltimore, Washington D.C., Boston, Chicago, Dallas and Indianapolis, Atlanta, New York City, Austin and Los Angeles. Anne led BoMF to become a $6.5M privately-funded organization with staff of 48, thousands of volunteers and hundreds of members. Anne's vision for Back on My Feet is simple, yet bold - to help as many people as possible, in the most efficient way as possible, redefine themselves so they can redefine their life and, just as important - to change the perception of homelessness on a global scale.
Anne's work with Back on My Feet has been featured in countless times in both local and national media. In 2012, Anne hosted a documentary for MTV called The Break on youth homelessness and she was recently featured in a book, called 50 Everyday Heroes. Anne has been named ABC world News Person of the Week, a CNN Hero, New Yorker of the Week, a top 40 under 40 individual by Philadelphia and Washington DC's Business Journal, as well as Crain's New York.
Anne is also a motivational speaker and regularly speaks at corporate events, academic institutions and conferences on numerous topics including, leadership, being bold, finding your happiness, the business behind starting a nonprofit, and social change.
She is originally from Bismarck, North Dakota and currently lives in Washington, DC. She has completed 12 marathons, one on every continent - most recently Antarctica!
Videos
---
Speech Topics
---
The Road to Change
Anne Mahlum's compelling personal story and work with Back on My Feet is a powerful and inspirational example of how change happens. In this engaging and inspiring program, Anne shows us that we all need the same things in life to grow and succeed... to be noticed, to be appreciated, to be valued and to be cared for. She teaches that changing the way we see ourselves and our circumstances is at the core of change and that only then can we begin to move out of our comfort zones and create real and lasting change in our lives. With raw vulnerability, grace and lots of humor, Anne takes audiences on an emotional journey that will leave them feeling motivated, purposeful, and empowered to both manage and create real change in their lives.
NOTE: Anne's message is universal and resonates with every kind of audience, organization and industry. However, her presentation can be tailored for your audience according to the specific sub-topics below.
Sub-topics explored in her presentation include:
· Overcoming adversity
· Life transitions
· Risk-taking
· Perseverance
· Eliminating excuses
· Self-worth | self-esteem
· Vulnerability
· Identity and redefining ourselves
· Social change
· Using sport for social change
· Starting and building a nonprofit
· Fundraising
Related Speakers View all
---
Kristie Kennedy

Women's Worth & Wellness Expert, TEDx Audacious Lead...

Zainab Salbi

Founder of Women for Women International, Bestsellin...

Kelly Lovell

Entrepreneur, Thought Leader , Millennial Influencer...

Sabine Heller

CEO of invitation only social community ASMALLWORLD...

Nancy T. Nguyen

Hit-and-Run Survivor; Crowned 2011 Miss Corporate Am...

Vicki Saunders

Founder of SheEO, Serial Entrepreneur & Award-Winnin...

Allyson Kapin

Founder of Women Who Tech; Founder of web agency Rad...

Stacy Brown-Philpot

CEO of TaskRabbit

Lynn Good

President & CEO of Duke Energy

Mary Barra

CEO of General Motors; First Female CEO of a Major G...

Janet Chung and Ann Chung Mellman

Founders of Korean Delights

Tania Luna

Leadership Trainer, Researcher, Author & Co-founder ...

Caryn Seidman Becker

Chairman & CEO of Clear

Jean Case

CEO of the Case Foundation & Author of "Fearless: Fi...

Charlie Alejandro

Motivational Speaker, Writer, Actress & Radio Talk S...

Ursula Burns

First Black Woman to Serve as CEO of A Fortune 500 C...

Jessica Herrin

Founder & CEO of Stella & Dot

Sheri McCoy

Former CEO of Avon Products & Former Vice Chairman o...

Safra Catz

CEO of Oracle Corporation

Carey Lohrenz

First Female F-14 Fighter Pilot in the U.S. Navy, T...
More like Anne